'Nathan For You' Season 4 Trailer: The Best Show You're Not Watching Returns This Fall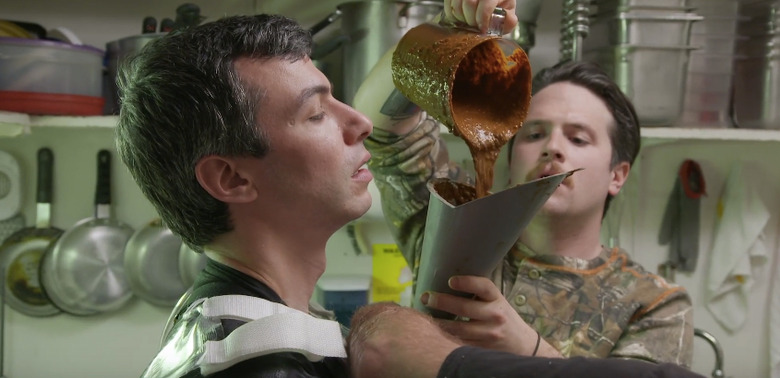 Even if you don't know the name Nathan Fielder, there's a good chance you've encountered at least one of the viral stunts the comedian has executed through his Comedy Central TV series Nathan for You. The series is a parody of reality TV shows where small business are helped by consultants who are experts in entrepreneurship, with Nathan Fielder offering up terrible ideas to help drum up interest in various small businesses.
The most famous stunt pulled off by Nathan Fielder has to be either his Dumb Starbucks, which found coverage all over the country by the media, many unsure as to why it existed. Some thought it was an art installation offering commentary on consumerism, others thought Banksy might be responsible. Fielder was also behind the famous viral video of a pig rescuing a goat at a zoo. Those two stunts alone are enough to proclaim Nathan Fielder a comic genius, and thankfully, he's back with more.
The trailer for the fourth season of Nathan for You has arrived, and we're happy to see Nathan Fielder getting back to business, especially when it involves smuggling chili and taking down Uber.
Watch the Nathan for You Season 4 Trailer
We get just a taste of some of Nathan Fielder's clients from this season, which includes a small tech shop offering asexual computer repair, whatever that means. It looks like he also attempts to help a diner sell more food by smuggling chili into a sports arena and selling it to the crowd. But his biggest target on the business side appears to be using taxi cab drivers to help take down Uber, which should be hilarious.
Even more fascinating than that though is the return of one of the strangest characters from previous episodes of Nathan for You: William the Bill Gates impersonator. Looking and sounding nothing like Bill Gates, this guy apparently occasionally gets paid to impersonate the Microsoft founder, and he's done it before on Nathan for You with hilarious results. But this time, he wants to track down a woman he once knew, seemingly looking for some kind of lost love. It all looks like a dramatic documentary series on Netflix, which only makes the proceedings that much funnier.
Nathan for You is easily one of the best shows Comedy Central has right now, and Nathan Fielder is unbelievable when it comes to his improvisation skills. The way Fielder stays in character, doesn't break, and deals with the public's reaction to his clearly terrible ideas is masterful, something that just can't be taught. I can't wait to see what he does on this upcoming season.Nathan for You returns to Comedy Central on September 28, but there will be an hour-long retrospective looking at previous seasons of the show on September 21. It sounds like a great way to jump on the bandwagon.