'The Punisher' Trailer Features Jon Bernthal's Frank Castle Doing His Best John Wick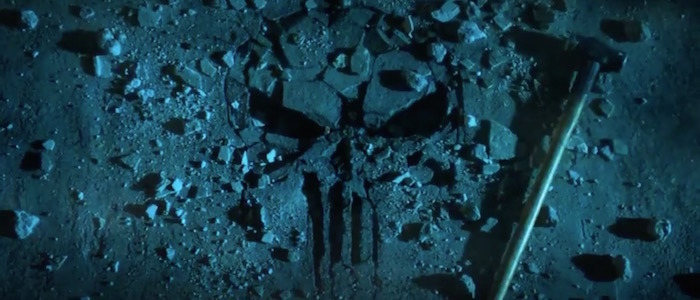 I'm not saying John Wick is the only emotionally fraught vigilante who's allowed to dramatically smash concrete with a sledgehammer in a scene of violent catharsis, but this particular slice of imagery from the first official The Punisher trailer demands the comparison.
The first teaser for the upcoming Netflix series premiered at the tail end of The Defenders, which arrived on the streaming service early this morning. It's online now, showcasing Jon Bernthal is all of his glowering, floor-smashing glory.
While not available in an official capacity yet (and we'll update when it is), the first Punisher trailer was scooped up and dropped on Twitter. You can watch it in the embed below.
This a teaser trailer in the strictest sense of the word, more of a video announcement than anything else. There's no sense of story here, but there's plenty of angst. As Frank Castle works out his aggression with a sledgehammer, we see flashes of the former Marine's family and glimpses of the violence he wreaks against the criminal underworld to fill the gaping hole that is his soul following their murder. And because this is a Marvel show on Netflix, it's all very dark, and very gritty, and very much intended for adults who like their comic shows a little bit more x-treme.
I kid because I love. Mostly. Jon Bernthal's Frank Castle was my favorite element of Daredevil season 2 and his take on the Punisher (a damaged brute who was as pathetic as he was terrifying) has stuck with me even as other elements of that show have evaporated away. As a character, the Punisher is a template we've seen a thousand times before – the vengeful vigilante who skirts the justice system by branding himself judge, jury, and executioner – so whether he reads as trite or complex all comes down to execution. Bernthal remaining in the role is a good start.
This trailer follows the debut of the first footage from The Punisher at Comic-Con a few weeks ago, which I thought was perfectly fine. From the look of things, this series won't break the Marvel/Netflix mold in any way, but those who have enjoyed Daredevil, Jessica Jones, Luke Cage and Iron Fist (and I enjoyed the first three of those things!) will probably find plenty to like here as well. After three failed big screen outings, Frank Castle may find himself to be right at home on the small screen.
The Punisher doesn't have a release date yet, but it's expected to arrive later this year. Steve Lightfoot executive produces the series. Additional cast and details can be found in the synopsis below:
Jon Bernthal will reprise his role as Frank Castle from Marvel's Daredevil where he's joined by newcomers Ben Barnes as Billy Russo (the civilian name of the villain Jigsaw), Frank's Castle's best friend from his days in the Special Forces who runs a successful private military corporation called "Anvil;" Ebon Moss-Bachrach as Micro, a former NSA analyst whose secrets may be of great value to Frank Castle and everyone around them; and Amber Rose Revah (Indian Summers, Son of God) as Dinah Madani; a highly-trained sophisticated Homeland Security agent who is vexed by the Punisher.
Also in the cast are Daniel Webber (11.22.63) as Lewis Walcott, a young veteran who has had a difficult time re-assimilating into Civilian Society; Jason R. Moore (A Lonely Place for Dying) as Curtis Hoyle, a friend of Frank Castle's and one of the few people who knows he is alive; Paul Schulze (Nurse Jackie) as Rawlins, a high-ranking member of the CIA whose operations in Afghanistan intersect with Frank Castle; Jaime Ray Newman (Bates Motel) plays Sarah Lieberman, Micro's wife whose marriage has made her life far more complicated; and Michael Nathanson (The Knick, Wolf of Wall Street) as Sam Stein, a Homeland agent who is challenged by his partnership with Dinah (Amber Rose Revah).