Cool Stuff: This Official 'LEGO Ninjago Movie' LEGO Set Is The Third Largest Ever Released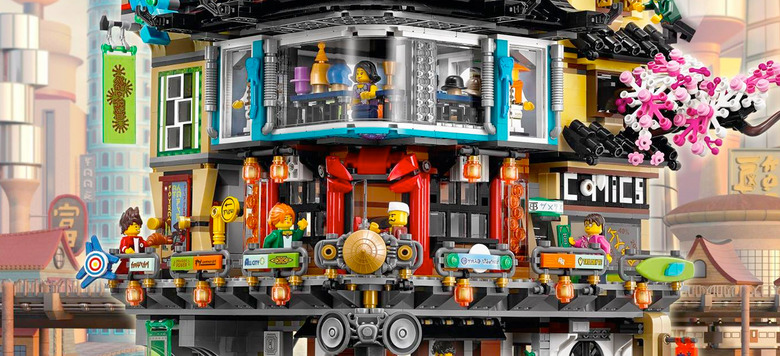 There have been more and more LEGO sets tied in with movies in recent years, especially since The LEGO Movie sparked a whole cinematic universe of movies featuring the building block toys. With The LEGO Ninjago Movie arriving in September, there's a brand new line of LEGO sets bringing several vehicles, settings and all the characters from the movie, but none are quite as impressive as one particular set.
Ninjago City is just one of several LEGO sets that will be released in September in conjunction with the release of The LEGO Ninjago Movie, but it's the one that deserves the most recognition because it's the third largest LEGO set ever released to the public. Get a better glimpse at the Ninjago City LEGO set below.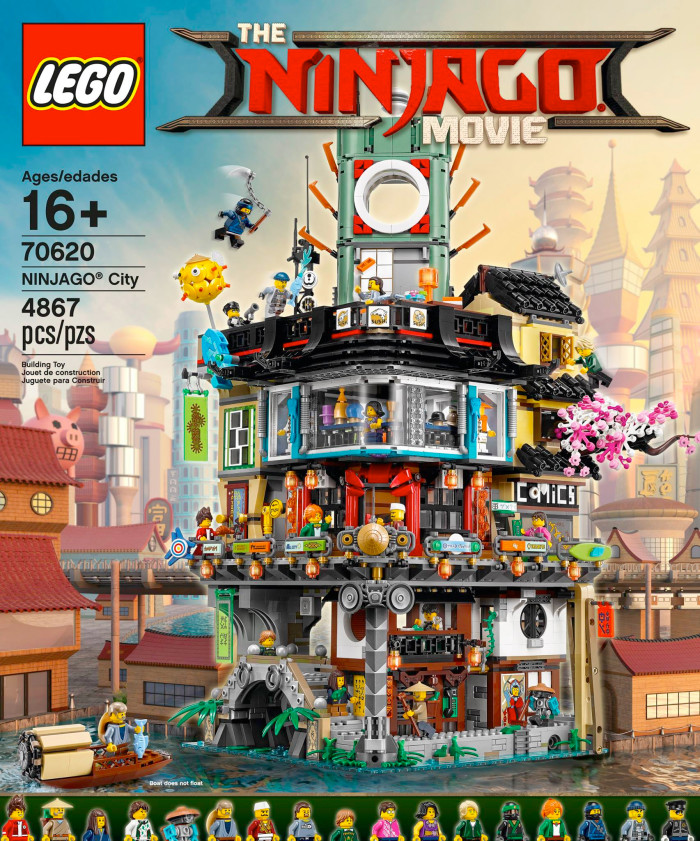 The Ninjago City LEGO set has 4,867 pieces, putting it behind the Ultimate Collector's Series edition of the Millennium Falcon and the Taj Mahal for highest piece count. It also comes with nearly 20 minifigures. With a style similar to the LEGO Creator modular buildings like the Palace Movie Theater and the Ghostbusters firehouse, Ninjago City could make a nice addition to a larger diorama.
The bad news is that this LEGO set will cost you $299.99 if you want to add it to your LEGO collection. It will be available on shelves and at The LEGO Shop online starting on September 1st.
***
Dave Franco, Michael Pena, Zach Woods, Fred Armisen, Kumail Nanjiani and Abbi Jacobson all lend their voices as the ninja ensemble in The LEGO Ninjago Movie, while Justin Theroux plays the villain Lord Garmadon and Jackie Chan voices Master Wu.The LEGO Ninjago Movie is directed by Charlie Bean (Tron: Uprising) with The LEGO Movie's Phil Lord, Chris Miller, Dan Lin, and Roy Lee serving as producers.
If you want to see more from The LEGO Ninjago Movie, check out the most recent trailer right here.
In this big-screen NINJAGO adventure, the battle for NINJAGO City calls to action young Master Builder Lloyd, aka the Green Ninja, along with his friends, who are all secret ninja warriors. Led by Master Wu, as wise-cracking as he is wise, they must defeat evil warlord Garmadon, The Worst Guy Ever, who also happens to be Lloyd's dad. Pitting mech against mech and father against son, the epic showdown will test this fierce but undisciplined team of modern-day ninjas who must learn to check their egos and pull together to unleash their inner power of Spinjitzu.
The LEGO Ninjago Movie is in theaters September 22, 2017.