New 'Planet Of The Apes' Video Game Will Bridge The Last Two Films, Andy Serkis Involved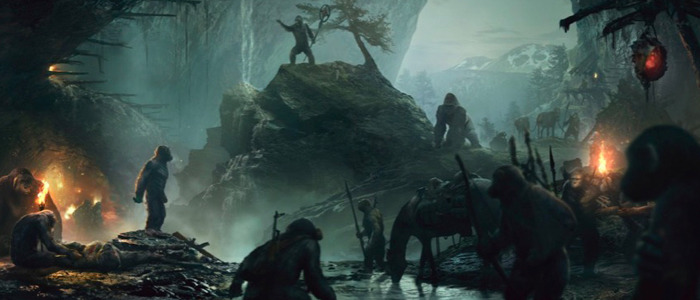 While ideas of more Planet of the Apes movies are still floating around the studio lot over at 20th Century Fox, a sequel to (or spin-off of) this summer's spectacular War for the Planet of the Apes has not officially been given a green light yet. But fans of that world will have the opportunity to dive back into it with a new video game that comes out this year.
Planet of the Apes: Last Frontier is set between the inexplicably-titled Dawn of the Planet of the Apes and War, which are the two most recent films in the franchise. And here's some more good news: Andy Serkis, who plays the ape leader Caesar in the new film trilogy, is involved in the game.
Planet of the Apes Last Frontier trailer
Here's the official synopsis:
Last Frontier is a groundbreaking narrative game of conquest, betrayal, and survival. When the fates of a tribe of apes and a band of human survivors intertwine, two worlds collide and the precarious existence each is eking out hangs in the balance. Set between Dawn of the Planet of the Apes and the summer blockbuster movie release War for the Planet of the Apes, Last Frontier plunges the player into a rich, cinematic experience where every decision drives the story forward and ultimately determines who will rule the Planet of the Apes.
The game reportedly has multiple endings, and your decisions impact the overall story as the game progresses. ComingSoon describes it like this:
Players will be given the opportunity to play both sides of the growing conflict, gaining a deep understanding of the motivations, hopes and fears of humans and apes alike. The destinies of each species rests entirely on the player as the game pushes towards a tense, fragile peace, or a final bloody battle.
Sounds cool. I love the world they've created with this franchise, and the game's trailer appears to carry over that same haunting Western vibe that reminds me of something like Red Dead Redemption.
I haven't been able to find out if Serkis is doing the performance capture for the Caesar character in this game, but the actor is involved here through his performance capture company The Imaginarium, which he co-founded back in 2009. (They've worked on the Apes movies, Star Wars: The Force Awakens, and Avengers: Age of Ultron.) The voice in the trailer doesn't sound like his to me, and I wouldn't be surprised if he sat out the performance capture on this game because he's working Jungle Book: Origins, for Warner Bros., which is being shot on location in South Africa instead of entirely in Los Angeles sound stages.
Planet of the Apes: Last Frontier is coming to PlayStation 4, Xbox One, and PC sometime this fall. Find out more information at the game's official site.