'Manhunt' Trailer: John Woo Returns To The Cop Thriller, But Without Chow Yun-Fat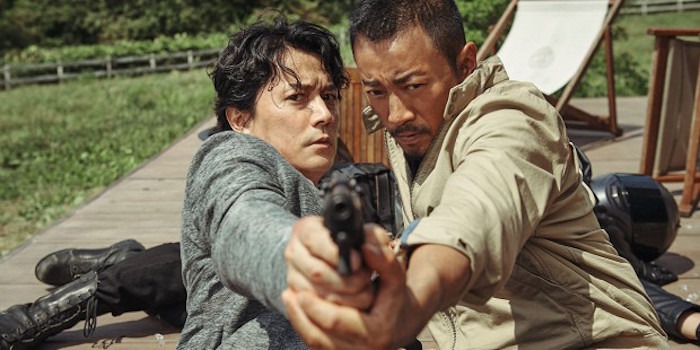 Action movie guru John Woo finally makes a return to the cop thriller genre with Manhunt, a remake of a classic 1976 Japanese action film. Sadly, his once-frequent collaborator Chow Yun-Fat won't be joining him.
Starring acclaimed Chinese actor Zhang Hanyu as a prosecutor who is wrongfully framed for robbery, rape, and murder, the Manhunt trailer looks like a throwback to Woo's classic stylistic flairs: over-the-top action! Endless ammo! Slow-mo! It's great to see Woo back in his element.
Boasting an impressive international cast of Chinese, Japanese, and Korean actors, Manhunt follows Hanyu's wrongfully accused man as he attempts to clear his name. Japanese heartthrob Masaharu Fukuyama co-stars as the police detective on the hunt for Hanyu's character. I say heartthrob in the truest sense, as Fukuyama was the sweltering star of multiple Japanese dramas that I watched back in my J-drama phase. (Shout out to all the Galileo fans!) The film also stars Chinese actress Qi Wei and Korean actress Ha Ji Won.
The trailer is a bit hammily edited in a way that is reminiscent of '90s action films — fitting, considering Woo built his fame on pulpy '90s thrillers like Hard Boiled and The Killer, most starring Chow Yun Fat — and features several attractive women in kimonos wielding pistols and machine guns, as well as various slow-mo jumps and fight scenes. I know that Manhunt will make its world premiere at the upcoming 74th Venice Film Festival, but can I see this immediately?
Manhunt is a remake of the 1976 Japanese film Kimi yo Fundo no Kawa o Watare directed by Junya Sato and starring Ken Takakura.
Here's the official synopsis for Manhunt and some images from the film below:
Action maestro John Woo returns to the mold of his classic The Killer with this remake of a classic 1970s Japanese thriller, about an innocent man who sets out to clear his name after his is framed for robbery and rape.
After spending a decade in Hollywood helming high-octane tentpoles like Mission: Impossible II and Face/Off, Woo dabbled in Chinese historical epics like Red Cliff that failed to make much of an impact Stateside.
It's a pleasure to see Woo return to form with Manhunt, even though it's without Chow Yun-Fat, who has probably aged out of the cop thriller lead roles now that he's reached the ripe age of 62. But Woo himself is 71 and still chipping away at the action genre, so he could surely make room for a cameo at least for his old muse? I can dream! I just miss Chow Yun-Fat.
Manhunt will premiere at Venice and TIFF and be released in Chinese theaters on February 16, 2018.