One Final 'The Defenders' Trailer Before They Unite To Save Manhattan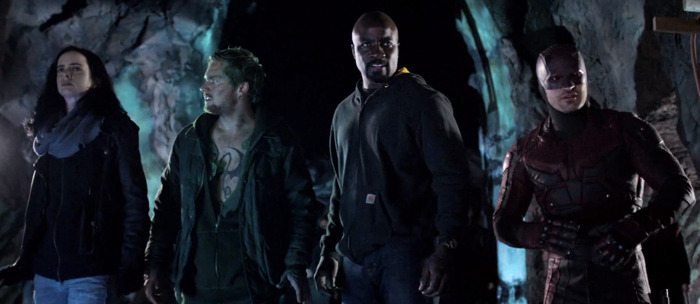 Tomorrow brings the assembly of Marvel superheroes known as The Defenders to Netflix, marking the first time Daredevil (Charlie Cox), Jessica Jones (Krysten Ritter), Luke Cage (Mike Colter) and Iron Fist (Finn Jones) have teamed up to take on a threat. And one final trailer for The Defenders shows just how deadly that threat may be.
With less than 24 hours before the first season of The Defenders debuts, Netflix has released one final peek at the series, and it features quite the menacing voiceover and ominous words of wisdom from Sigourney Weaver as the new villain, Alexandra Reid. Honestly, just this little pep talk alone for The Defenders makes her one of the better villains in the Marvel Cinematic Universe. Watch the trailer to see for yourself.
Watch the The Defenders Trailer
While these superheroes must come together to defeat Alexandra Reid, the trailer reveals some moments where they're not getting along too well. Or maybe it's just Iron First, who has a problem with everybody since there's a moment where he punches Daredevil in the face and a quick shot where Luke Cage appears to be throwing a jab his way. We know these heroes aren't too keen on being a team at the start of this series, so maybe it's just the same growing pains that the Avengers went through when they first assembled in 2012.
For more from The Defenders, check out these clips fro the series featuring characters from their respective shows:
This is troubling. #DEFEND pic.twitter.com/8M1LaYG6ou

— Daredevil (@Daredevil) August 14, 2017
See? I care. #DEFEND pic.twitter.com/2wbHcRk6HF

— Jessica Jones (@JessicaJones) August 15, 2017
What kind of name is Foggy? #DEFEND pic.twitter.com/ToLfsbQmwT

— Luke Cage (@LukeCage) August 12, 2017
Feel free to stop by Chikara Dojo anytime. #DEFEND pic.twitter.com/pGjoWTS9e6

— Iron Fist (@MarvelIronFist) August 13, 2017


The Defenders cast also includes Rosario Dawson and Simone Missick returning as Claire Temple and Misty Knight respectively, as well as Scott Glenn as Stick, Deborah Ann Woll as Karen Page, Elden Henson as Foggy Nelson, Carrie-Anne Moss as Jeri Hogarth, Rachael Taylor as Trish Walker, Eka Darville as Malcolm Ducasse, and Jessica Henwick as Colleen Wing.
If you'd like some early buzz on The Defenders, check out our round-up of reviews right here, as well as our review of the season premiere over here.
Marvel's The Defenders follows Matt Murdock/Daredevil (Charlie Cox), Jessica Jones (Krysten Ritter), Luke Cage (Mike Colter) and Danny Rand/Iron Fist (Finn Jones), a quartet of singular heroes with one common goal – to save New York City. This is the story of four solitary figures, burdened with their own personal challenges, who realize they just might be stronger when teamed together.
The Defenders hits Netflix on August 18, 2017.