UPDATED: 'Mission: Impossible 6' Production Shut Down Due To Tom Cruise's Injury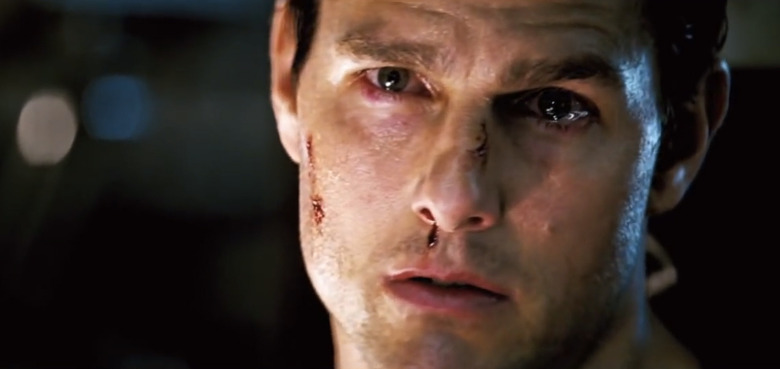 UPDATE: This story has been updated at the end with statements from director Christopher McQuarrie providing some insight into the injury and how production will recover while Tom Cruise does the same after his injury.
Last weekend brought some troubling news when a stunt involving Tom Cruise on the set of Mission: Impossible 6 in London, England resulted in the actor seemingly injuring himself. In a video posted online, Cruise could be seen jumping from a scaffolding on one building to the rooftop of another, but he appeared to fall short of his landing, injuring his leg. He could be seen limping off set after being removed from the wire harness holding him up. Now, it appears that injury will have a major impact on the sequel's production.
Mission: Impossible 6 is shutting down production in order to give Tom Cruise time to heal from his injury. The delay looks to be significant, and it could end up having an impact on the film's release date.Deadline has word on the Mission Impossible 6 production delay after the Tom Cruise injury, which is expected to be out of commission for a minimum of nine weeks. Apparently, that's how long it will take for Tom Cruise's leg and other non-specific injuries sustained during the stunt to properly heal. However, Variety says no decision has been made about how long production will be down, saying it could be anywhere from six weeks to three months.
There has been no official announcement from Paramount Pictures on the matter, but they did give a statement to Variety saying that Tom Cruise broke his ankle, which would make continuing the shoot rather difficult. Tom Cruise is said to be seeing a doctor today in order to get the final word on his injury, but things don't sound good for the time being.
As of now, we should consider the length of delay a rumor since this is all coming secondhand from the talk about Hollywood, but it does seem that Mission: Impossible 6 won't get back to shooting with Tom Cruise in the immediate future. So what does that mean for the release date?
Well, if production ends up getting pushed back nine weeks, it's probably a safe bet that the movie won't be able to meet the previously set July 27, 2018 release date, though Paramount says it's still on the schedule for now. After all, Mission: Impossible – Rogue Nation was once slated for release in December of 2015, only to have its release date bumped up to July of 2015, and the film didn't wrap shooting until March of 2015. Depending on when production was going to be completed originally, Paramount Pictures might still have enough time to get the film together to meet their original late summer date as planned.
Still, another concern is how the delay might shake up Paramount's plans to get Top Gun: Maverick off the ground in time to meet their July 2019 release date. Plus, the rest of the cast members in Mission: Impossible 6 might have their own schedules shaken up now that the sequel will be behind schedule.
After this mishap, we might see Tom Cruise get a little more careful about the stunts he performs. However, it's more likely that the studio won't allow him to do as many dangerous stunts in the future, especially with accidents like the fatal one on the set of Deadpool 2 becoming all too frequent in recent years. For now, we wish Tom Cruise the best and hope that he recovers from his injuries quickly.
UPDATE: Shortly after we published our initial story above, Empire released an exclusive interview with director Christopher McQuarrie, where he explained what went wrong with the stunt and how he sees the silver lining in the production delay.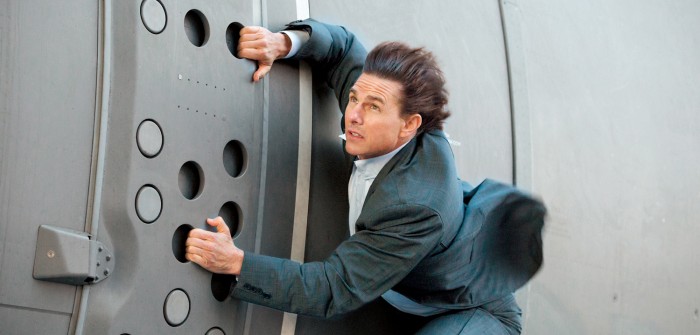 What Went Wrong with the Stunt?
Initially, many thought Tom Cruise's stunt jump from building to building fell short, which is what caused the injury. But the way Tom Cruise continued the scene after pulling himself onto the roof also indicated that missing the jump could be part of the stunt itself. The latter is what turned out to be true. McQuarrie explains how the stunt was supposed to go and how it went wrong:
"The speculation was that Tom had somehow missed or fell short. The truth is that the stunt was never designed for Tom to jump from rooftop to rooftop which a) would have been pretty boring and b) when you see the actual shot you'll understand how it was designed. Also, when you look at what was posted on the internet, you can see Tom do the same stunt multiple times. He was always supposed to slam into the side of the building. That's what gives the stunt its energy. He was completely safe the entire time he was doing that. He was padded. What happened is a matter of coordinating what Tom is doing with what the camera is doing, which means you have to do it a number of times. And on the fourth try, he hit the building at a slightly different angle and he broke his ankle. He knew the instant that he hit the building that his ankle was broken. You can see it on his face. We had four cameras rolling on it, and you can see it on the video that's on the internet. He knew in that instant, 'well, we're not coming back here. We're not doing this again today'. So he got up and powered through the shot, and then he got off-camera and as soon as he knew he was off-camera he went down. He knew that was the only way to preserve the shot. I don't know that I would have the wherewithal to do that."
It's just more evidence of Tom Cruise being the consummate professional and finishing the job he was supposed to do despite the fact that he had just broken his ankle. In fact, McQuarrie comments Cruise for being such a good actor that the real breaking of his ankle looked like it was just another take:
"When we all watched it, none of us immediately realised what was happening on the monitor. Tom got up and hobbled off-camera and we looked at it and went, wow, he really sold that one. It looks like that hurt. It turns out him breaking an ankle is almost indistinguishable from him pretending to break an ankle. My immediate concern was, how is Tom? What is the extent of his injury? Today, we got the full prognosis and found out that it was actually fine, could have been much worse. And everything was ok. I'm not at all concerned about what this is going to do to our release date. The good news is, Tom is going to make a full recovery."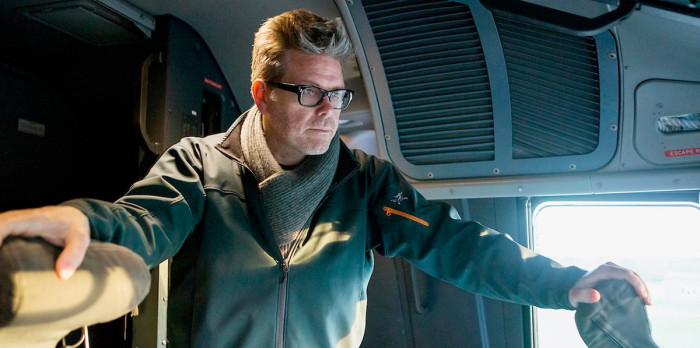 Christopher McQuarrie Finds a Silver Lining in the Delay
This is director Christopher McQuarrie's second outing with the Mission: Impossible franchise, and he's not worried about production at all. Even though some shooting may not be able to happen  with Tom Cruise out of commission, there are some things they can still get done. McQuarrie says:
"You never stop working. I'm on the backlot at Leavesden right now, getting ready to shoot an insert out in the field. You simply rearrange the order in which you were going to do certain things on the movie. This in fact gives us an opportunity to go into editorial and look at what we've shot and reassess the movie, which is a luxury you don't normally have because you're on a train that just doesn't stop."
Plus, even if they run out of footage to shoot that doesn't require Tom Cruise, they can merely dive into a bit of post-production sooner than anticipated. McQuarrie elaborates:
"We'll assess what there is to be shot. And what we can shoot, and then what we'll do is once we've shot through that we'll go on a hiatus and then I'll shift my attention over to editorial. We've already shot a huge chunk of the movie so you're just taking a big chunk of post-production and moving it up sooner. Then we go back to shooting when the hiatus is over, which is to the full benefit of the movie. It's similar to situations I've had on other movies where, for whatever reason, you go on hiatus and you're able to look at the movie in a way you normally couldn't and reevaluate. The lesson I learned on Valkyrie, which had its share of difficulties in production, and we always used to say 'disaster is an opportunity to excel'."
Plus, now the movie has an authentic moment with a story behind it that McQuarrie wants to ensure makes it in the movie:
"I now have to move heaven and earth to make sure that the shot is in the movie. We went to all that effort to get it. It's a pretty fantastic shot."
For now, Mission: Impossible 6 is still slated to arrive on July 27, 2018.