Ben Affleck Won't Star In 'The Batman' Says Trolling Brother Casey Affleck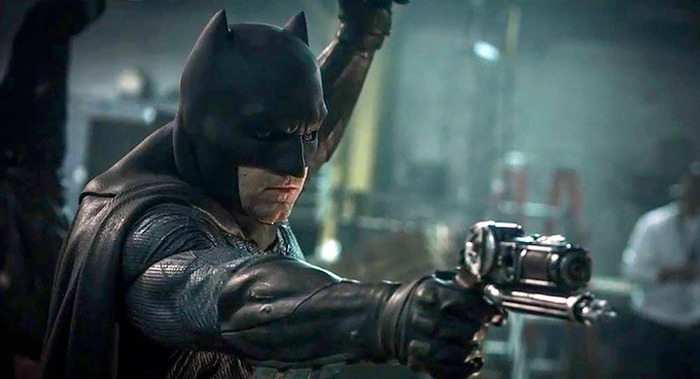 Some rumors have been going around that Ben Affleck's time as Batman would be over after Justice League. When Affleck was promoting the film at San Diego Comic Con, he denied the claim he wanted out of the role. While not a confirmation that the actor is no longer going to play the Caped Crusader, his brother, Casey Affleck, told a radio show he doesn't think he's going to star in director Matt Reeves' The Batman before seconds later retracting the statement, saying he was just making stuff up. Read his comments below.
Ben Affleck Not Batman?
When Affleck was recently on WEEI Sports Radio, the Manchester by the Sea star was asked about what he thought about his brother's performance as the famous superhero. Here's what he told the show hosts:
[Joking around] I thought he was an okay Batman. No, I thought he was great. He was great. He's a hero, so he had something to channel and work with there. But he's not going to do that movie, I don't think. Sorry to say.
After the radio hosts inform him that's breaking news, Casey then begins to backtrack: "Is that breaking news? Because I was just kind of making that up, I don't know."
It's tough to tell whether Affleck was jokingly attempting to backtrack or just plain backtrack. He possibly could've misspoken or misremembered. Casey doesnt seem like the type of guy to closely follow his brother's business decisions. It's not an official confirmation Affleck is exiting the role; it's his brother – someone with no ties to the production – saying he doesn't think he's starring in the film. It's also possible that Casey is just trying to troll the radio crew and his brother Ben on his birthday.
Update: Casey Affleck's reps have responded with the following:
"He was having fun with the folks at the Red Sox game," Casey's rep states, "and not speaking from a place of firsthand knowledge." Ben's rep was also quick to follow this by claiming that nothing has changed since Comic-Con and that, "he'll continue to be Batman as long as the studio will have him." Warner Bros., meanwhile, declined to comment on the matter but that was to be expected.
Our original story continues below:
But this remark comes after months of doubts that Affleck wouldn't continue playing Batman, which Casey Affleck's quote certainly doesn't help put to rest. After the actor stepped down from directing The Batman, he said he remained "extremely committed" to the project. Shortly after Reeves took-over, the director scrapped the script Affleck wrote with Geoff Johns. Since these changes, Affleck has maintained his enthusiasm about the role. "I am the luckiest guy in the world," he said at Comic Con. "Batman is the coolest fucking part in any universe. It's fucking amazing and I still can't believe it after two films... And Matt Reeves doing it, I would be an ape on the ground for Matt Reeves. And I think you'll see why I'm so excited to be Batman."
Right now, Affleck is still The Batman and is still on track to collaborate with the War for the Planet of the Apes director. After his brother's comments, we'll likely hear a denial or confirmation soon. The actor makes for a convincing bone-crushing Batman, so hopefully, his brother has it wrong. I know I want to see Affleck play the character again, front and center, in a Matt Reeves film.
Production is expected to begin next year with The Batman starring Ben Affleck. Maybe.
Thanks to /Film reader John A and Dork podcast for the heads up.