'Captain Marvel' Recruits A New Screenwriter Into The Carol Corps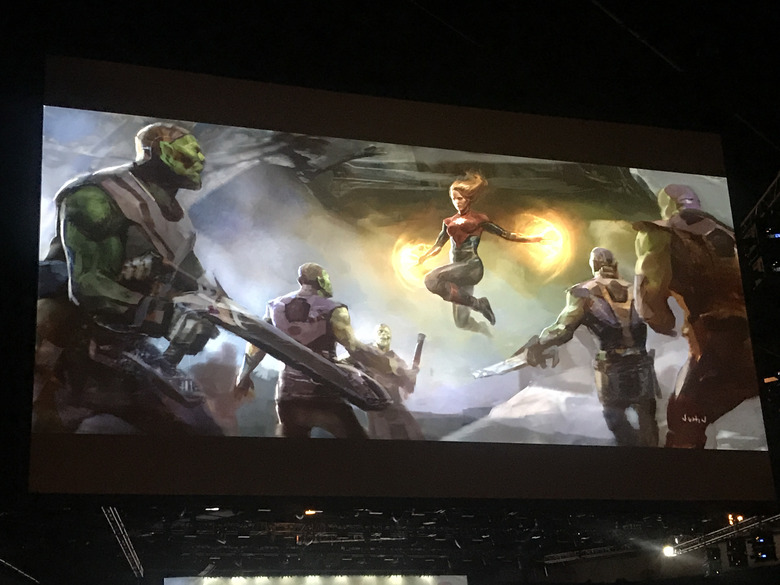 Captain Marvel isn't due out in theaters until 2019, but with filming expected to begin early next year, Marvel Studios needs to lock down a screenplay. And because this is a major superhero film being made by a major studio, a new writer has been brought on to help push Carol Danvers' big screen debut across the finish line.Deadline reports that Geneva Robertson-Dworet has been invited to the join the Carol Corps and will rewrite the Captain Marvel screenplay. Earlier drafts were penned by the duo of Meg LeFauve and Nicole Perlman, with the former's commitment to Disney's upcoming animated movie Gigantic being the cited reason for her stepping away. LeFauve is best known for co-writing Pixar's Inside Out, which scored her an Oscar nomination. Perlman is one of the credited writers on Guardians of the Galaxy, a movie that surely had a hand in landing her the writing duties on Marvel's Gamora solo comic.
Robertson-Dworet is a relatively new talent and we've yet to actually see her first screenplay come to life on the big screen: 2018's Tomb Raider reboot starring Alicia Vikander. However, her work has been twice featured on the "Black List" of best-unproduced screenplays in Hollywood, and she has found herself attached to a number of high profile projects, including Sherlock Holmes 3 and Dungeons & Dragons. This won't even be her first time writing a comic book movie, as she wrote Gotham City Sirens, the Harley Quinn-led spin-off movie that Warner Bros. may or may not be making. Lara Croft, Harley Quinn, and now Carol Danvers? Someone is building their career on writing movies about kick-ass ladies.
It's not clear whether or not Robertson-Dworet is being brought on for extensive rewrites or just to tighten up what the first team already contributed, but in either case, there's no cause for alarm. Just about every major studio movie undergoes a screenwriter shuffle, especially in the months leading up to the start of production. This is perfectly normal, the result of Hollywood being the bizarre amalgamation of business and art that it is.
What is clear is that Marvel Studios is sticking to its guns about letting women hold the reins on their first female-led superhero movie. After Wonder Woman and director Patty Jenkins cracked the superhero glass ceiling earlier this year, there was no way Marvel was going to get away with handing Carol Danvers, a character beloved by countless female fans, over to a guy. A new screenwriter being hired this late in development is business-as-usual in Hollywood, but a studio sticking to its guns and keeping women steering the ship of a movie about a woman is nothing to scoff at. Plus, it's just good press and a good look. Just look a the glowing words I'm using right now!
The directing team of Anna Boden and Ryan Fleck will helm Captain Marvel, which is set to open on March 8, 2019. Exact story details are under wraps, but we do know that the film will be a prequel to the Marvel Cinematic Universe that takes place in the '90s (and will co-star a pre-eyepatch Nick Fury). And while she's only appeared as the character in concept art form, Oscar-winner Brie Larson sure does look awesome in that uniform.