'Ozark' Season 2 Announced By Netflix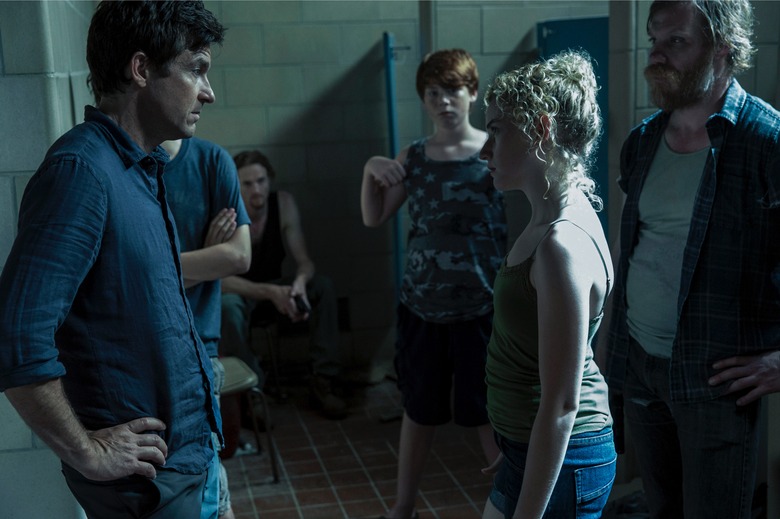 That was fast. The Jason Bateman dramatic crime series Ozark just premiered on Netflix on July 21, but the streaming service has announced they are already renewing the show for a second season. Below, here's what we know about Ozark season 2.
A follow-up season seems like a no-brainer as this show has everything Netflix subscribers seem to want from their binge-worthy shows: great acting, interesting characters doing questionable things, and big, unexpected twists and turns. Bateman portrays financial planner Marty Byrde, who alongside his wife, a homemaker turned real estate agent Wendy (Laura Linney) are suddenly forced to relocate their family from a Chicago suburb to a summer resort community in the Missouri Lakes of the Ozarks after a money laundering scheme goes wrong. Marty is under time pressure to wash millions of dollars for a Mexican drug lord, or it will all be over.
I've been telling people that the show is Breaking Bad meets Justified, so if you liked either or both of those series you'll probably like Ozark. The best episodes of the show are the first two and last two hours of the 10-episode season, which were not-so-coincidently directed by executive producer and star Jason Bateman. After seeing this series, I'm much more excited to see his evolving career as a director.
Watch the trailer for Ozark season 1 below if you want to get a taste of the series. Although I must warn you, it probably does reveal too much so if you're planning to check it out, I'd advise against watching it).
Ozark was created by Bill Dubuque and Mark Williams and written/executive produced by Chris Mundy. The second season of the series will also likely be 10 episodes in length. I'm sure most of the main cast for the series will return alongside Bateman The first season co-starred Laura Linney, Sofia Hublitz, Skylar Gaertner, Julia Garner, Jordana Spiro, Jason Butler Harner, Esai Morales, Peter Mullan and Lisa Emery.
The first season ends in a way that sets up the stakes and circumstances for season 2 of the series. The exciting thing about it is that it seems to promise something bigger and different and not just more of the same. The series looks like it won't get stuck in a rut and that's exciting stuff.