The Morning Watch: How To Make A Blockbuster Movie Trailer, Jay-Z 'Friends' Remake & More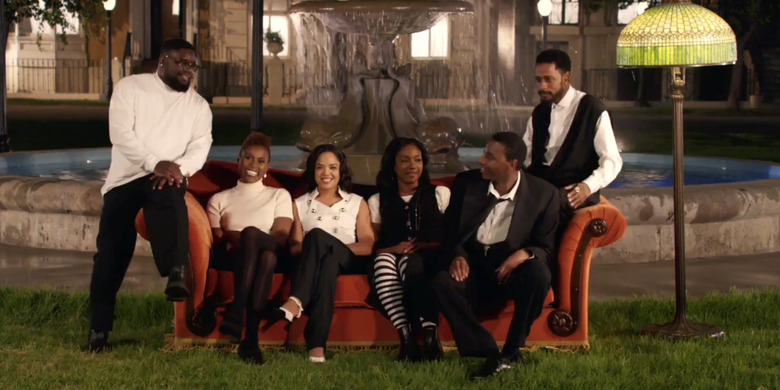 (The Morning Watch is a recurring feature that highlights a handful of noteworthy videos from around the web. They could be video essays, fanmade productions, featurettes, short films, hilarious sketches, or just anything that has to do with our favorite movies and TV shows.)
In this edition, a clever video provides beat-by-beat instructions for how to make a proper blockbuster movie trailer, and a video essay explores the prominence of punching in movies and how to make it feel significant. Plus, Jay-Z's latest music video for his track "Moonlight" is actually a remake of the sitcom Friends but with black actors in all of the roles.
The folks at Auralnuts use text, editing and music to create a generic template for blockbuster movie trailers that's pretty damn accurate. You can imagine footage from any number of summer blockbuster movies in place of the text throughout this trailer describing what's going on. Plus, it uses the trend of slowed down versions of upbeat, popular songs hilariously, choosing to use "You Spin Me Round (Like a Record)" by Dead or Alive. The only thing missing is the specific mention of a randomly inserted shot in a montage of two characters getting sexy with each other. It's a movie trailer staple.
Next up, a video essay from Patrick H. Williams explores punching in movies. You may not think about it much, but punching in movies is infinitely more common than it is in real life. You can probably count on one hand the number of times you've seen someone get punched in front of you in the real world, but in movies, it happens all the time. This video essay explores how something so common in movies can be presented in an effective way, and also the elements of your traditional movie punch.
Finally, Jay-Z recently premiered his latest music video exclusively on the music subscription service Tidal, but it's not available all over the internet. The music video for his track "Moonlight" is an abridged remake of an episode of Friends, but with black actors like Jerrod Carmichael, Issa Rae and more in the lead roles. Even cooler is that it's directed by Master of None episode helmer Alan Yang.