Director Darren Aronofsky Tries To Explain What 'Mother!' Is All About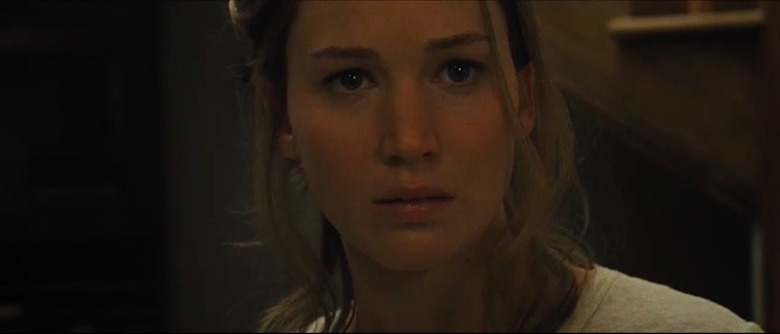 Darren Aronofsky's new film, mother! comes out in a month's time. After two trailers, we know very little about the plot – a nice feeling when approaching a release date – but the mood in the trailers has spelled raw doom. The marketing has communicated a strong, tangible feeling of terror, which is how mother! all began. Aronofsky had an indescribable emotion he wanted to capture on Super 16mm with this film.
Below, Aronofsky thankfully reveals nothing about the mother! plot, but talks about the genesis of the project and his intentions.
The director behind The Fountain, The Wrestler, and Requiem for a Dream tells Entertainment Weekly his latest is "closer to Black Swan in spirit than anything I have done in a while." The film is about a couple's (Jennifer Lawrence and Javier Bardem) relationship being tested when some unwelcome guests, played by Ed Harris and Michelle Pfeiffer, arrive at their home. This is how Aronofsky describes their story:
You can see the tension in their relationship as it's pulled by all these forces. Jen and Javier are experiencing things in different ways.
Aronofsky has said his previous films are about ideas. In the case of mother!, it's about a single emotion. That single emotion might've been influenced by Stephen King's Carrie, which scared him "shitless" and led him to write a draft of his thriller in a day and a half.
He described the process to EW:
I was always jealous of singer-songwriters who can pop out a song in a couple of days or a few hours. I had this idea, and I felt it rise up in my head. I took a long weekend and got into this fever dream and just pumped it out. [Laughs] We'll see what the results are. It's been an interesting way to approach it — trying to capture a single emotion and trying to tell a two-hour story out of that emotion.
The filmmaker added:
The best thing about this film will be the surprise of it. It's an intense journey and it's definitely the biggest roller coaster in the park. Only get on it if you really want to do the loop-the-loop.
Only "if you really want to do the loop-the-loop" is a great way to describe your movie without really saying anything about it at all. His movies are more often than not roller coasters, which typically leave you with all sorts of emotions to sort through. The emotion that stands out the most, of course, being misery. Like Black Swan, perhaps mother! will be both entertaining and grueling.
mother! opens in theaters September 15, 2017.