'Inhumans' Featurette: Behind The Scenes Of The Unfortunate Looking Marvel Series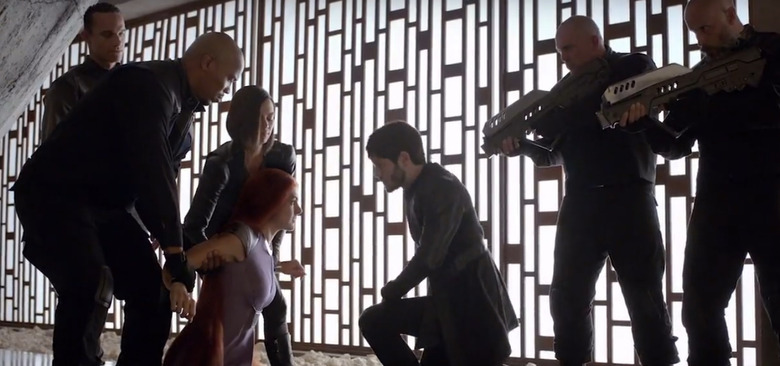 We're not getting a new Marvel Studios movie until Thor: Ragnarok hits theaters in November, but before then the comic book production company will try to capture fans' attention with a new TV series on ABC that takes place in the Marvel Cinematic Universe, albeit more tangentially than directly.
Marvel's Inhumans focuses on a royal family of genetically super-powered individuals as they try to live in a world unsure of their abilities. When a military coup creates conflict within the royal family, some escape to Hawaii, where they may find the key keeping the planet safe. But a rift in the family creates, even more, conflict as a struggle for power emerges.
A new Inhumans featurette goes behind the scenes of the upcoming series, showing off some new footage, both in front of and behind the camera. Check it out below.
So far our impression of Inhumans is that it will be supremely disappointing. The footage looks more in line with a series that belongs on SyFy in the 1990s rather than a modern comic book adaptation. The production looks cheap, from the costumes to the visual effects, and unfortunately, the performances feel melodramatic, like some kind of comic soap opera. It doesn't even feel on the same level as Agents of SHIELD.
The look of the series is even more troublesome since the pilot of the show is going to premiere in IMAX theaters nearly a month before it hits ABC. Seeing the pilot on the giant screen will likely only further reveal how cheap the production looks. Plus, the IMAX release of Inhumans seems even more counter-intuitive because the pilot will actually be nine minutes longer. I'm not sure why you wouldn't want the IMAX version to be longer since some fans would pay to see more. But then again, since the ratings are what will matter in the end, ABC may want more motivation to tune in on TV instead of IMAX.
We haven't been impressed by what we've seen from Inhumans, but maybe the series just needs time to find its footing. If you'd like to know more about the series, check out our San Diego Comic-Con panel recap, as well as our set visit from Hawaii.
***
Inhumans stars Anson Mount as Black Bolt, Iwan Rheon as Maximus, Serinda Swan as Medusa, Eme Ikwuakor as Gorgon, Isabelle Cornish as Crystal, Ken Leung as Karnak, Ellen Woglom as an original character, a human named Louise, Sonya Balmores as Auran, and Mike Moh as Triton.
Marvel's Inhumans explores the never-before-told epic adventure of the royal family including Black Bolt, the enigmatic, commanding King of the Inhumans, with a voice so powerful that the slightest whisper can destroy a city. After the Royal Family of Inhumans is splintered by a military coup, they barely escape to Hawaii where their surprising interactions with the lush world and humanity around them may prove to not only save them, but Earth itself.
The series is executive produced by Scott Buck, along with Marvel's Jeph Loeb and Jim Chory with Buck serving as showrunner. Roel Reiné will direct the first two episodes. This series is a Marvel and IMAX project and is co-produced by Marvel Television and ABC Studios.
The legendary comic book series will be brought to life in a way that has never been done before, as a version of the first two episodes of Marvel's Inhumans will be shown globally in IMAX theaters for a two-week period beginning September 1, 2017. ABC will then air the entirety of the series on the network beginning on September 29, 2017.