LOL: Bill Hader Returns To 'Saturday Night Live' As Anthony Scaramucci For 'Weekend Update'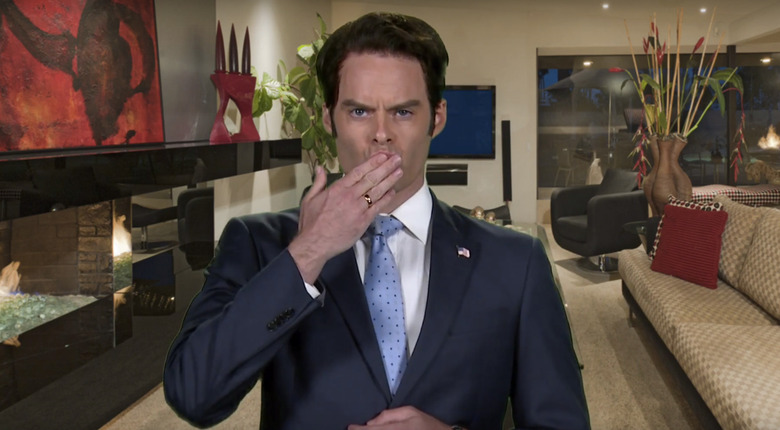 Even as a die hard Saturday Night Live fan, I'm not entirely sure that we need a summer edition of Weekend Update for a few weeks before the full 43rd season of the late night sketch series kicks off on September. But after last night's first episode of Weekend Update: Summer Edition brought back one of the best cast members to ever appear on the show, I'm so glad Colin Jost and Michael Che came back to end the summer with some laughs.
Former cast member Bill Hader made a surprise return to Studio 8H last night, and he brought with him an incredible impression of former White House communications director Anthony Scarmucci, the financier who only worked at the White House for 11 days before being unceremoniously fired from the position before he had even officially started the job.
Watch the sketch featuring Bill Hader as Anthony Scaramucci below.
This impression could not be more right on the money. Hader has always been an amazing impressionist with a chameleon voice, and this turn as Anthony Scaramucci shows that he hasn't lost his touch since leaving the sketch show a few years back.
The only downside is that like one of the appearances that Melissa McCarthy made as Sean Spicer during the 42nd season, Hader's part appeared to be either pre-recorded or done live via satellite, which is why the timing was off for some of the back and forth with Michael Che.
Bill Hader hasn't returned to Saturday Night Live since he hosted the show for the first time in October of 2014, though he did pre-record a voice cameo for a sketch in the November 19, 2016 episode hosted by Kristen Wiig. If these are the kind of cameos we can expect from Weekend Update: Summer Edition, then you won't hear me complaining about NBC oversaturating the brand of SNL (which they even joked about during this first episode), especially if it means they get to take advantage of the headline-making satire they would otherwise have missed out on.