The Morning Watch: Game Of Thrones Edition: Valyrian Dagger Theory, Loot Train Battle Video Essay & More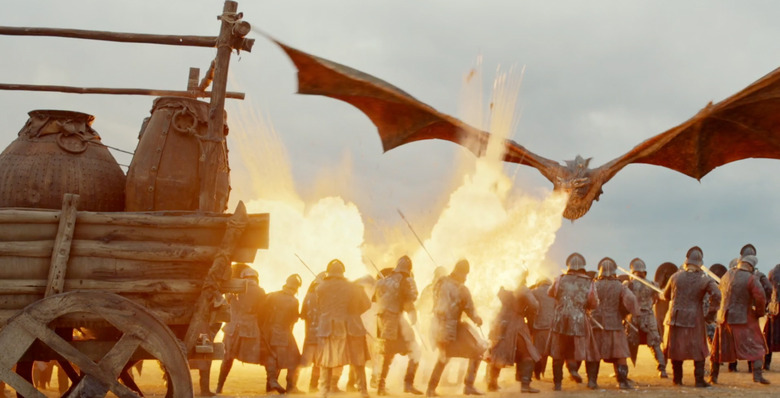 (The Morning Watch is a recurring feature that highlights a handful of noteworthy videos from around the web. They could be video essays, fanmade productions, featurettes, short films, hilarious sketches, or just anything that has to do with our favorite movies and TV shows.)
In this edition, we've got an assembly of Game of Thrones videos for you to check out. There's a theory about the significance that the Valyrian steel dagger will carry in future episodes and a video essay exploring how the loot train battle from last weekend's new episode takes a cue from epic battles throughout cinema. Plus, Saturday Night Live comedienne Leslie Jones watched the latest episode of the series with Seth Meyers with hilarious results, and a special guest stopped by too.
For those of you who are ingrained deep into the mythology and details of Game of Thrones, there's a theory going around about the Valyrian steel dagger (or catspaw dagger) that's been handed down to Arya Stark. It dives into a lot of details from previous seasons, but it all makes quite a lot of sense. If anything, it's some good food for thought to hold you over until the next episode of Game of Thrones this weekend.
The last 20 minutes of Game of Thrones last weekend were positively breathtaking, and there has already been an extensive look behind the scenes at how they sequence was accomplished. Now Nerdwriter takes a closer look at the narrative structure of the episode and how it follows suit of other epic movies by having several story threads lead into a "giant Frankenstein monster battle." Even more interesting is that the video basically recreates the sequence by using clips from other epic movies.
If you're the kind of person who doesn't want someone talking through the TV show you're watching as it's happening, then you might not enjoy watching Game of Thrones with Leslie Jones. But if you've already seen last weekend's episode (and what the hell are you doing here if you haven't?), then this should be quite entertaining. In a segment called Game of Jones, we get to see Leslie Jones sit down with Seth Meyers to watch "The Spoils of War," the fourth episode of the seventh season of Game of Thrones.
I'd be lying if I said this wouldn't be annoying if this is how Leslie Jones watches this show for the first time every time, but seeing it retrospectively is absolutely hilarious. Jones actually live tweets new episodes most of the time, and this is pretty much like seeing that come to life. Surely she's hamming it up for the camera a bit, otherwise her neighbors would probably get a little worried. Either way, I hope this segment starts recurring more often, especially if more guest stars like the one who shows up later in the video can be brought in.