New 'Thor: Ragnarok' Images Arrive, Jaimie Alexander Confirmed To Return As Lady Sif [Updated]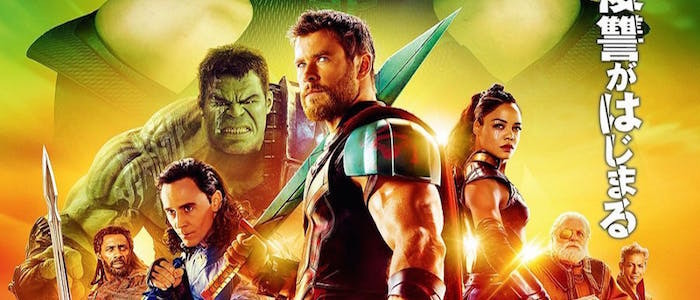 Update: We have added the wild new international poster for Thor: Ragnarok below.
The buzz around Thor: Ragnarok has been high ever since the latest trailer debuted at San Diego Comic-Con last month. In fact, the Marvel Studios sequel has been on top of the social media buzz charts for three weeks in a row. That's impressive for a movie that doesn't hit theaters until November.
Now the Thor: Ragnarok hype train keeps on rolling with a batch of new images debuting online, showing off the God of Thunder (Chris Hemsworth), both before and after the new haircut given to him by the people of Sakaar. Plus, there are new shots of Jeff Goldblum as The Grandmaster, Tessa Thompson as Valkyrie and Idris Elba as Heimdall.
Along with the new photos, there seems to be confirmation of a certain cast member from the first two installments of the Thor franchise is returning for a third round. See the new Thor Ragnarok photos and find out more about this latest casting confirmation below.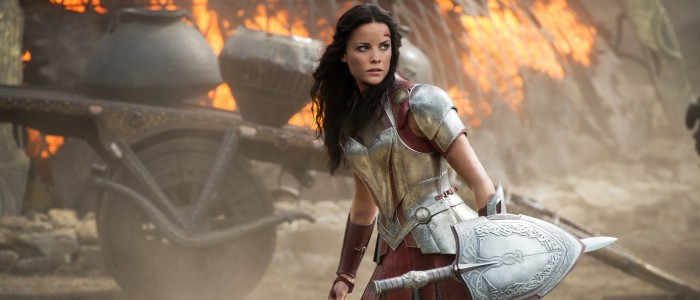 Is Jaime Alexander Returning as Lady Sif?
Before we get to the photos, let's talk about the latest confirmed addition to Thor: Ragnarok. At one time, the return of Jaimie Alexander as Lady Sif was up on the air, but it seems the actress has been confirmed to make an appearance in the film by way of a surprising source. A Twitter user posted this promo for an episode of Talking with Chris Hardwick on AMC:
Lady Sif / Jaimie Alexander #ThorRagnarok pic.twitter.com/IJ2aFxjDWN

— Kathy 🤍🌳🌳 (@xKathxk) August 7, 2017
The promo goes out of the way to say "Jaimie Alexander from Thor: Ragnarok" to promote the episode, which is the best confirmation we've had so far about her involvement in the third installment of the franchise. There's always a chance that her role in the movie was assumed by a the promo's producer, but usually something like this has to go through several official channels for approval, and if she wasn't in the movie, that would have been squashed rather quickly.
For now, we'll assume that Lady Sif will be involved in Thor: Ragnarok in some capacity. However, fans of the character may want to prepare themselves, because with Hela the goddess of death invading Asgard, some of our favorite warriors may end up meeting the wrong end of her blade.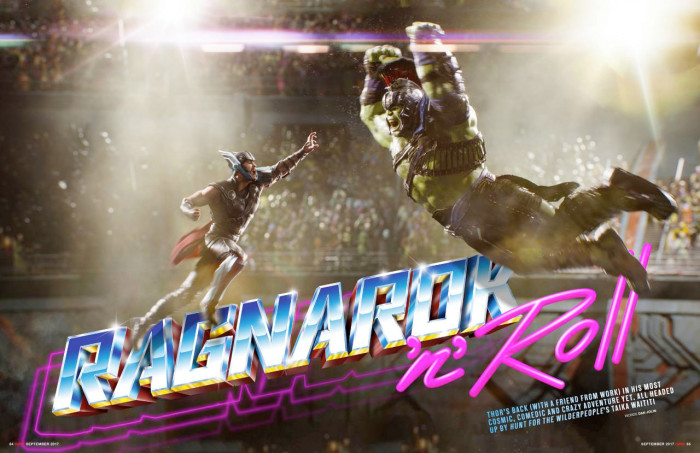 New Thor: Ragnarok Photos
A batch of new photos from Thor: Ragnarok have surfaced online from this month's issue of Empire, giving us a new look at the characters we've been introduced to in the first two trailers for the sequel so far. The images include the work colleagues Thor and Hulk getting ready to smash into each other, as well as Thor and Loki (Tom Hiddleston) spending some time in New York City together. But there are some other interesting details to be noticed in these images as well:
First of all, take note of the image where The Grandmaster (Jeff Goldblum) is standing at a control center with Topaz (Rachel House of Hunt for the Wilderpeople) on his right. They have Thor himself presented in front of him, restrained in some kind of chair. This looks to be at the end of one of the scenes that was shown to us at San Diego Comic-Con, where Thor is sitting in a chair that moves through a holographic display that explains the origin of Sakaar and its ruler, The Grandmaster. It's a sequence that takes a cue from the scary boat ride from Willy Wonka and the Chocolate Factory, containing exposition presented in an entertaining way.
Secondly, check out that photo of Tessa Thompson as Valkyrie. What's going on behind her? With all the green streamers and homemade heads that look like a familiar green guy we all know, this appears to be some kind of parade for the gladiator champion known as The Incredible Hulk. He's clearly quite a big deal on Sakaar, and I can't imagine the planet is going to be too happy when Bruce Banner and Thor decide to make a getaway from the planet.
Finally, what we've seen of Idris Elba has Heimdall so far has been very interesting. He's not wearing the gold armor that we've seen him wear in the previous Thor movies and he's in the middle of the wilderness somewhere. The teaser trailer showed him fighting what appeared to be Hela's minions, so maybe he's on the run from the invasion of Asgard. We'll have to wait and see.
Update: A new international poster has arrived as well, showing off the strange and colorful cast of this movie: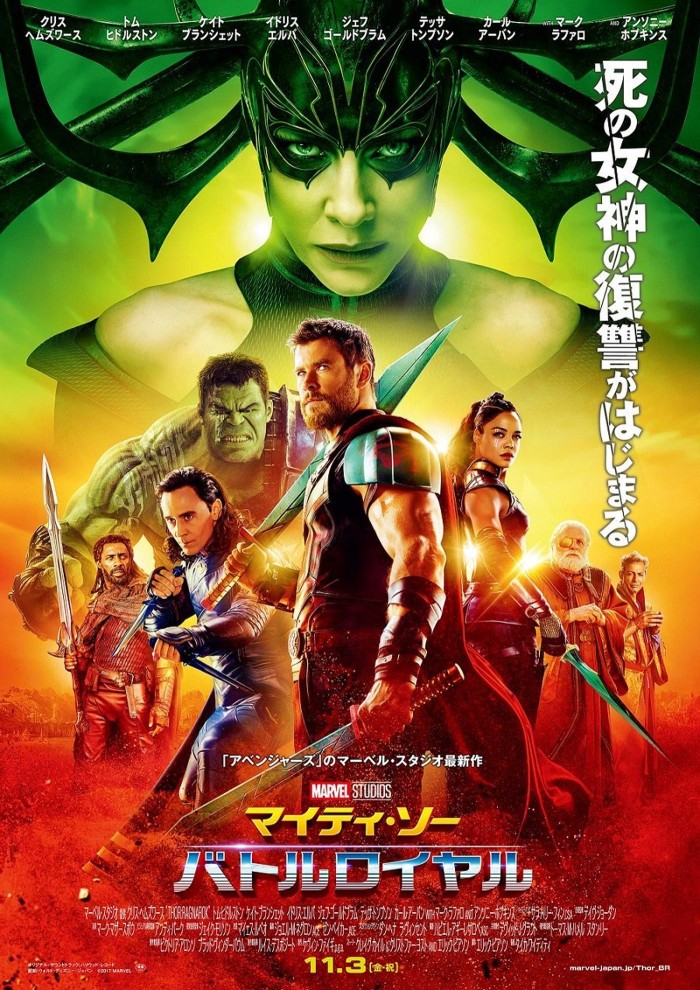 Thor (Chris Hemsworth) is imprisoned on the other side of the universe without his mighty hammer and finds himself in a race against time to get back to Asgard to stop Ragnarok – the destruction of his homeworld and the end of Asgardian civilization – at the hands of an all-powerful new threat, the ruthless Hela (Cate Blanchett). But first he must survive a deadly gladatorial contest that pits him against his former ally and fellow Avenger – The Incredible Hulk!"
Thor: Ragnarok arrives on November 3, 2017.