'Ocean's 8' Is Going Back to Film More Next Week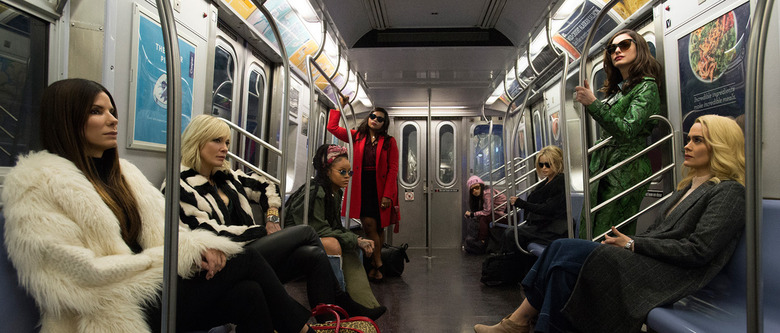 Sarah Paulson is part of the ensemble of Ocean's 8, an all female Ocean's 11 led by Sandra Bullock, Cate Blanchett and Anne Hathaway. After a Television Critics Association panel for the new season of American Horror Story, Paulson told reporters that the heist is going to get even bigger as she goes back next week for additional shooting.
"I am actually going to do some more of that next week," Paulson said. "They decided to add more things."
Bullock plays Debbie Ocean, sister of Danny Ocean (George Clooney) from Ocean's Eleven, Twelve and Thirteen. She also assembles a crew to pull off a heist, this time at the Met Gala in New York. The first image released shows Debbie Ocean's eight on a subway. For Paulson, it was an empowering set to work on.
"It was extraordinary to look around the room and see Cate Blanchett, whom I've worked with twice now, and Sandra Bullock and Rihanna and Mindy Kaling, Helena Bonham Carter, Anne Hathaway, Awkwafina," Paulson said. "It felt like a really empowering place to be and really fun. We have a text chain going that's one of the most epic things. If my phone were stolen, it would be... I'm sure I'm just inviting everyone to hack my phone now."
There is plenty of time for additional photography, since Ocean's Eight is nearly a year away from release. Gary Ross directs the script by Ross and Olivia Milch. Matt Damon is expected to appear in a cameo, providing more connection to the Ocean's trilogy, and a Clooney cameo has not been ruled out.
Ocean's Eight is due in theaters June 8, 2018.