'DuckTales' Will Finally Crossover With 'Darkwing Duck' On Disney XD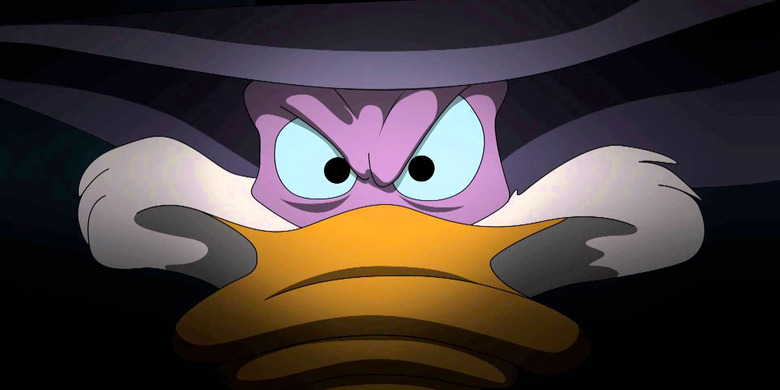 This weekend brings the premiere of the new DuckTales animated series to Disney XD. It's a new spin on the fan favorite show from the 1990s featuring the globe-trotting adventures of Scrooge McDuck and his three nephews Huey, Dewey and Louie, this time brought to life by the voices of David Tennant, Danny Pudi, Ben Schwartz and Bobby Moynihan.
Along with the new spin of the same characters, it turns out DuckTales will do something that the original series never did before. As we learned last fall, despite sharing the characters Launchpad McQuack and Gizmoduck, DuckTales and the other anthropomorphic duck animated series Darkwing Duck took place in different universes. But when it comes to the new DuckTales series, that won't be the case. Find out more below.
During the madness of news that came out of San Diego Comic-Con, there was an update from the DuckTales panel at the convention that went largely unnoticed. During the panel, co-producer and story editor Francisco Angones "accidentally" revealed some concept art of Darkwing Duck and his signature motorcycle, revealing that the mallard superhero would make an appearance on the new DuckTales series.
It's not clear exactly how Darkwing Duck will come into play in DuckTales, but in addition to the superhero being glimpsed in concept art, several other characters from his universe were shown off as well. Magica De Spell, Megavolt, Quackerjack and Ratcatcher were all spotted according to Oh My Disney, so maybe there will be an episode or two where Scrooge and his nephews end up on an adventure with Darkwing Duck and end up in danger.
Even more enticing is that the introduction of Darkwing Duck into the DuckTales universe could be a backdoor pilot for the superhero to get his own animated series reboot. But Disney is probably waiting to see how DuckTales performs on Disney XD before investing even more money in reviving any nostalgic series from the 1990s.
There's no word on who will be voicing Darkwing Duck on DuckTales, or any of the voice talent for the other characters from his universe, but we'll likely find out as the episode featuring the character gets closer.
You can find out more about the extended cast of DuckTales right here, and you can also watch the trailer for the animated series right here before it has an hour-long TV movie presented for 24 consecutive hours beginning August 12 on Disney XD.