David Letterman Is Coming To Netflix For A New Series, But Will His Epic Beard Come Too?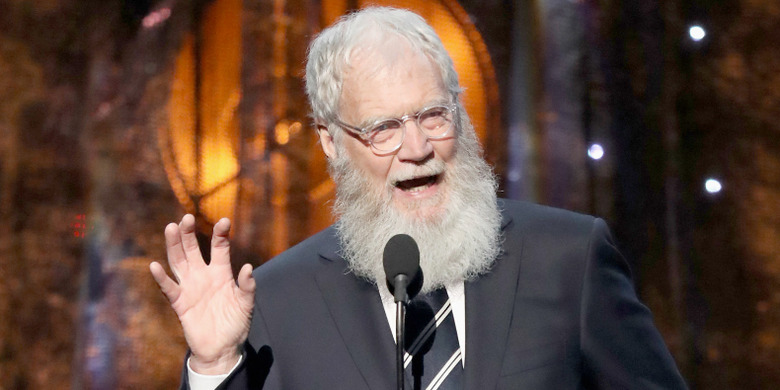 David Letterman stepped down from his longtime post as the host of The Late Show on CBS in 2015, replaced by comedian Stephen Colbert. But as any good comedian will tell you, it's hard to stay away from the spotlight, and David Letterman is a great comedian, so it should come as no surprise that he's coming out of retirement with a new show. But it won't be on any of the big networks.
Netflix is bringing David Letterman into their ever-expanding roster of comedy talent for a new series on the streaming service with six episodes in 2018. But exactly what kind of show can we expect from the legendary, respected comedian and television host?
The New York Times reports news of Netflix rounding up David Letterman for a series that doesn't have a title yet, but the streaming service said it will be an hour-long program that will have Letterman doing two of the things he does best "in-depth conversations with extraordinary people, and in-the-field segments expressing his curiosity and humor."
With 33 years of late night hosting experience under his belt, not to mention all the time he spent honing his skills as a stand-up comedian, Letterman is one of the best in the business, and the fact that Netflix was able to coax him out of retirement is a big deal. Actually, the comedian was the one who was getting antsy about doing a new project, telling NYT, "I keep saying, jeez, I still think I can do something. I want that epiphany that others have had. It's the same epiphany that I had about wanting to do a TV show when I was, like, 17."
Letterman has kept a low profile since leaving television in 2015, though he has made a few appearances here and there on the National Geographic Channel and the Rock and Roll Hall of Fame induction ceremony. In the press release from Netflix, Letterman himself said, "I feel excited and lucky to be working on this project for Netflix. Here's what I have learned, if you retire to spend more time with your family, check with your family first. Thanks for watching, drive safely."
Now the comedian is another huge name added to the comedy mix on the streaming service, which will soon have new specials from Jerry Seinfeld and Chris Rock on the way. It remains to be seen if this is just the beginning of a larger relationship that Letterman will have with Netflix, but for now, this is a good start. Whether or not his Santa Claus style beard will stick around when he returns to TV hosting, we'll have to wait and see.
Are you looking forward to the David Letterman Netflix show?