'Kingsman: The Golden Circle' Extended TV Spot: English Manners Meets Southern Charm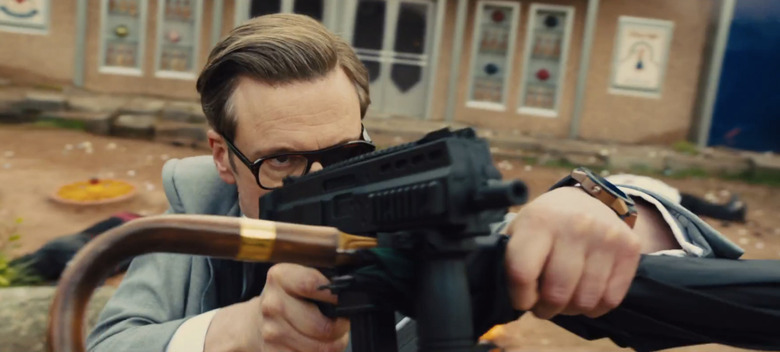 Even though summer may be over in a few weeks, September will be bringing us a blockbuster sequel that looks to be worthy of the season, but smart enough to avoid getting lost in the shuffle with the rest of the studio tentpoles.
Kingsman: The Golden Circle is the sequel to the original Kingsman: The Secret Service, an adaptation of Mark Millar's comic book of the same name, published by his own Millarworld banner, which just got picked up by Netflix this week. This time, the British secret agents must seek the help of their American cousins, known as the Statesman, as their own headquarters has been blown off the map by a new threat. A new TV spot shows more of the action from the comic book sequel, including Taron Egerton and Colin Firth back in action together, this time fighting alongside each other as equals.
Watch the extended Kingsman The Golden Circle TV spot below.
The dynamic between the Kingsman and Statesman agents is going to be quite the entertaining contrast, but as you can see, like the original movie, it's the over-the-top action that will really be the star of the movie. It does seem like American counterparts Jeff Bridges, Channing Tatum and Pedro Pascal may be stealing some scenes when all is said and done.
What's not clear just yet is what the plan being enacted by Julianne Moore's villain. Clearly she delivers a tough blow to the Kingsman, but the details of her overall scheme have not been explained in any of the trailers yet. Maybe we'll get one more trailer before the sequel directed by Matthew Vaughn, who co-wrote the script with Jane Goldman, arrives in theaters to explain more about the story.
If you'd like to know more about Kingsman: The Golden Circle, check out our recap of the San Diego Comic-Con panel, which showed tons of footage from the movie not available online yet. Plus, you can watch the latest red band trailer right here.
Kingsman: The Secret Service introduced the world to Kingsman – an independent, international intelligence agency operating at the highest level of discretion, whose ultimate goal is to keep the world safe. In "Kingsman: The Golden Circle," our heroes face a new challenge. When their headquarters are destroyed and the world is held hostage, their journey leads them to the discovery of an allied spy organization in the US called Statesman, dating back to the day they were both founded. In a new adventure that tests their agents' strength and wits to the limit, these two elite secret organizations band together to defeat a ruthless common enemy, in order to save the world, something that's becoming a bit of a habit for Eggsy...
Kingsman: The Golden Circle hits theaters September 22, 2017.