'Guardians Of The Galaxy Vol. 2' Deleted Scene: Peter And Kraglin Get In The Zune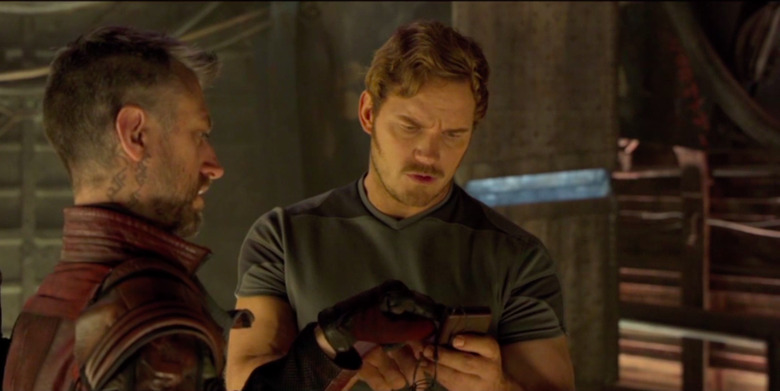 The Zune may be out of production, but at least it can give us a few laughs from beyond its technological grave. The defunct musical device was resurrected for a scene at the end of Guardians of the Galaxy Vol. 2, and with no more mix tapes coming from Peter Quill's mother, it will likely play an important role when Guardians of the Galaxy Vol. 3 rolls out, presumably in 2020.
The beginning of the Zune's reign can be marked with this Guardians of the Galaxy 2 deleted scene, in which Peter Quill (Chris Pratt) and Kraglin (Sean Gunn) try to figure out how to work the darn thing.
In a continuation of the scene where Kraglin gifts Peter with a Zune to replace the Walkman that his mother gave him, which was smashed by his father Ego, Peter asks him how to use it. Kraglin shows him the wheel that scrolls through the songs, remarking that it was made by a "primitive people," to which Peter says he agrees.
Kraglin, of all people, then gives Peter a quick rundown of his favorite songs and bands on the Zune, all of which are predictably hard rock or metal.
"It's got Traffic, that's really good. They've got some good songs. Thin Lizzy is a group I like a lot," Kraglin says as Peter plugs in his earphones. "There's a lady on there named Alice Cooper that I like a lot. She seems kinda angry, but kinda like stuff about what we felt like when we were kids, ya know?"
Pratt and Sean Gunn then hold, trying to keep a straight face until director James Gunn yells cut.
Whether Peter will be swayed by Kraglin's hard rock tastes — thus giving us a very different soundtrack to Guardians of the Galaxy Vol. 3 — or whether we'll get a third sequel set to the songs of garage rock '90s bands is yet to be determined, but either way, James Gunn already knows what those songs will be.
Also yet to be determined: Whether the Zune is back in again. Who knows, Guardians of the Galaxy may just make us nostalgic for the scrolling wheel, and Urban Outfitters could start selling novelty Zunes. They've gone from selling turntables and vinyl records to selling designer cassette players, so you never know what could happen. I'm not kidding, I've seen it. You can buy them in either clear or pink colors for $38. It's too bad that the only cassette tape I still have is the soundtrack to The Sound of Music.
Guardians of the Galaxy Vol. 2 comes out on Blu-ray and DVD on August 22, but will be available on Digital HD from various retailers before that on August 8.