'Stranger Things' Director Rebecca Thomas Attached To James Wan-Produced 'Malignant Man'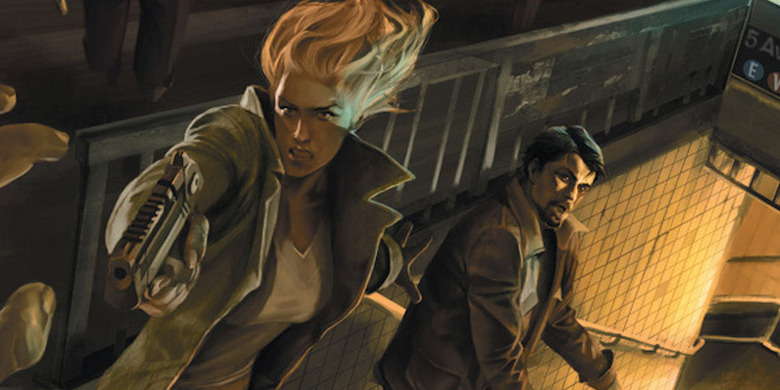 Rebecca Thomas, the filmmaker behind Electrick Children and a season two episode of Stranger Things, is attached to direct an adaptation of  Boom! Studios's Malignant Man. Director James Wan, co-writer Michael Alan Nelson, and illustrator Piotr Kowalski tell the story of a man who believes he has cancer, but who really has an alien parasite providing him with powers to defeat an army. The Wan-produced project has set up shop at 20th Century Fox.
Below, learn more about the Malignant Man director.
According to The Hollywood Reporter, Thomas has been hired to direct the sci-fi thriller, which has been in the works since 2014. Brad Peyton was previously attached to direct Malignant Man, but the San Andreas director exited the project to make Rampage. The co-producer of Lights Out, Zak Olkewicz, wrote the script.
The comic was published in 2011. When 20th Century Fox first acquired Malignant Man, Wan was considering directing, but the busy Aquaman director won't be helming the story of Alan Gates, who fights an army hidden within our own society. After Gates learns his tumor is a parasite, he uses his newfound powers to wage war.
Here's the official synopsis from Boom! Comics:
Alan Gates, a cancer patient with a terminal diagnosis, is resigned to his fate...until he discovers that his tumor is actually a mysterious parasite! Granted a second lease on life and incredible, otherworldly powers, Alan must fight against an evil army buried beneath society's skin, all the while unlocking the secrets of his forgotten past. Dark, twisted, and unique, MALIGNANT MAN is a sci-fi thriller that can't be missed!
Boom!'s Ross Richie, Stephen Christy, and Adam Yoelin will co-produce the film. Malignant Man marks one of the many promising projects Thomas has signed on to direct. Earlier this year, she was tapped to adapt Cheryl Della Pietra's Gonzo Girl, based on Pietra's experience working with Hunter S. Thompson. Olivia Cooke (Me and Earl and the Dying Girl) is set to play Pietra.
Perhaps the biggest gigs in Thomas' near-future is Universal's The Little Mermaid. Also on the list of potential future projects for her is an adaptation of John Greene's Looking for Alaska. I've yet to see Electrick Children, but it was praised on the festival circuit, got great reviews, and I've only heard good things. The director has also made two short films, Ivan Sings and Las Vegas, West, which are unfortunately tricky to find available online.