Michael Jackson's Groundbreaking 'Thriller' Music Video Will Premiere In 3D In Venice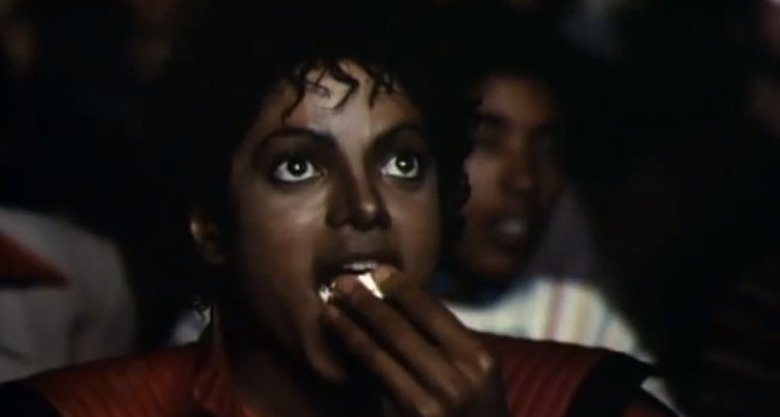 Michael Jackson's Thriller is perhaps the greatest music video of all time. It was the first music video of its kind, created as a nearly 14-minute short film that happened to have a chart-topping song playing throughout. The music video was such a publicized spectacle that it premiered at the AVCO Theatre in Los Angeles in 1983 and went on to sell out every night for three weeks straight. Thriller is also the only music video to be inducted into the National Film Registry by the Library of Congress, which is a pretty big deal.
Now fans will get to experience Thriller as they never have before when it screens in 3D at the Venice Film Festival. After being announced back in 2014, the 3D conversion of the music video directed by John Landis is finally ready for audiences to see it. Find out more about Michael Jackson's Thriller 3D below.
A press release has announced that Michael Jackson's Thriller 3D was completed by Optimum Productions with assistance by John Landis, using the original 35mm film negative available in the King of Pop's archives. It sounds like the process has taken longer than anticipated since the 3D conversion of the music video was intended to be released in theaters and on Blu-ray in 2015.
In addition to the 3D conversion, the sound from the video has been given a makeover as well. All of the audio, including Michael Jackson's signature tune, Elmer Bernstein's score, and even the sound effects, have been converrted to 5.7, 7.1 and Dolby Atmos standards for the highest quality audio visual experience of Thriller since it debuted in theaters all those years ago.
Here's what John Landis had to say about the big news:
"I am so happy to have had the chance not only to restore but enhance Michael Jackson's Thriller! We took full advantage of the remarkable advances in technology to add new dimensions to both the visual and the audio bringing it to a whole new level. Even though Thriller was shot traditionally, I was able to use the 3-D creatively. Let me just warn you, there is a rather shocking surprise in there!"
Since Thriller wasn't reedited or recut for this 3D conversion, I'm curious as to what this shocking surprise is that John Landis is talking about. Those in attendance will also be treated to a screening The Making of Michael Jackson's Thriller, a 45-minute documentary and was only available on VHS from 1983-1990 and never available on any format since then. Fun fact: MTV and Showtime paid $250,000 each for the rights to the documentary, which is how the music video, the most expensive ever made to date, was funded.
Sadly, most of us will be waiting awhile to see Thriller in 3D since it's only premiering at the Venice Film Festival for now. However, since the previous plan was to release Michael Jackson's Thriller 3D in theaters and on Blu-ray, I'm willing to bet that we might get to see the music video come back to theaters, complete with the making of documentary, sometime down the road. After all, Halloween isn't too far away, and with two months between the Venice Film Festival and the spooky holiday, that should be enough time to get some kind of theatrical distribution plan together for the music video.
Stay tuned to find out when you can see Michael Jackson's Thriller 3D yourself. In the meantime, here's the original video: