First Look: Hailee Steinfeld's 'Bumblebee' Character Is Pure 1980s Rock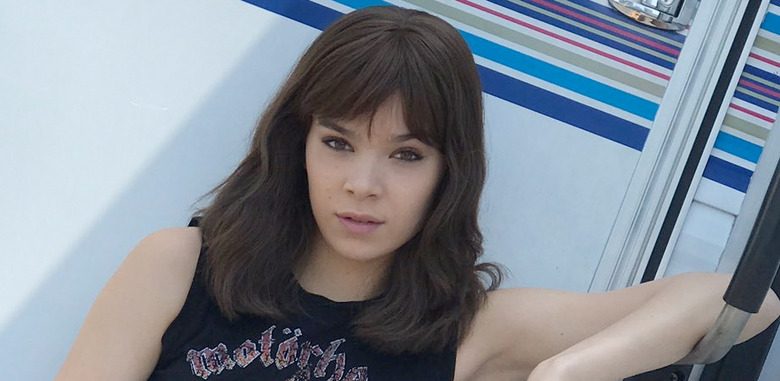 Production is now underway on the next installment of the Transformers, but it's going to be much different from the movies we've been seeing from director Michael Bay for the past decade. After launching in 2007, the Transformers film franchise has grown to be a convoluted mess of too many stories interspersed with huge, explosive action sequences. Thankfully, it sounds like the spin-off prequel Bumblebee will be heading in a different direction.
Not only will Bumblebee take place in 1987, but the film is said to be in the same vein as The Iron Giant, with significantly fewer Transformers. Taking the role of the teenager who encounters our heroic Autobot is Hailee Steinfeld, and the Pitch Perfect 2 actress has just posted a first look at her character that is pure 1980s rock. Get your first look at Hailee Steinfeld in Bumblebee below
Hailee Steinfeld posted this image to Twitter before she went to start shooting Bumblebee yesterday: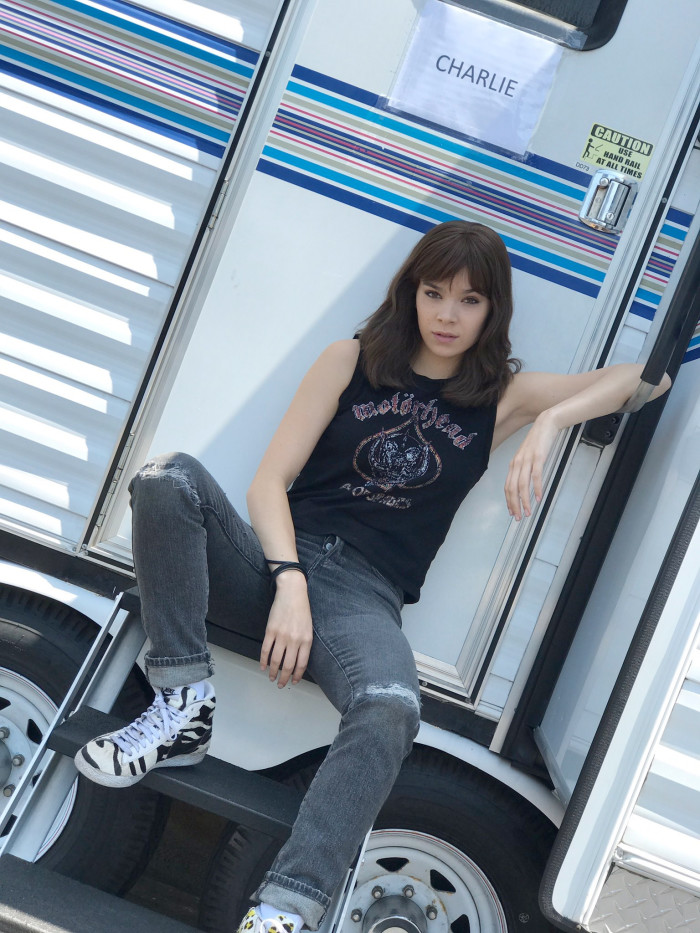 Meet Charlie Watson, a girl on the verge of turning 18, who is about to stumble upon the Autobot known as Bumblebee. It looks like she has attitude to spare, wearing a Motörhead shirt, torn jeans and zebra-patterned Nike shoes. Having her in the lead will be a nice departure from the core Transformers franchise, which has mostly focused on Shia LaBeouf and Mark Wahlberg as the lead characters. There have been key female characters before, but this will be the first time one takes the lead.
Hopefully, this Bumblebee spin-off gets back to the core of how Steven Spielberg pitched this movie to Michael Bay in order to convince the filmmaker to get on board. It was described as a movie about a boy and his first car, and this has the potential to be a more intimate coming of age sci-fi adventure. Producer Lorenzo di Bonaventura said as much when he spoke to Den of Geek recently:
"I think Bumblebee is an incredibly loved character. You pick [director] Travis Knight for a very specific reason. His movies are pretty extraordinary, Kubo and the Two Strings in particular. What we're trying to do is deliver, a love story may be too strong of a term, but it is a coming of age for Bumblebee and our lead character, Hailee Steinfeld. The two of them, their job in the movie is to support each other to get to the place where they both fully realize who they are in that moment. It's a very different kind of story. That plot is there, but it's very muted, relative to the larger Transformers movies."
Now that Bumblebee is in production, hopefully we'll be learning more about the film, especially since we don't know who cast member John Cena is playing in the film, which was written by Christina Hodson (Unforgettable) and is being helmed by Kubo and the Two Strings director Travis Knight. In the meantime, here's the official synopsis:
On the run in the year 1987, Bumblebee finds refuge in a junkyard in a small Californian beach town. Charlie (Hailee Steinfeld), on the cusp of turning 18 and trying to find her place in the world, discovers Bumblebee, battle-scarred and broken.  When Charlie revives him, she quickly learns this is no ordinary, yellow VW bug.
Bumblebee will arrive in theaters next winter on December 21, 2018.