The Morning Watch: 'Baby Driver' Opening Chase Mapped, 'Dunkirk' Sound Illusion & More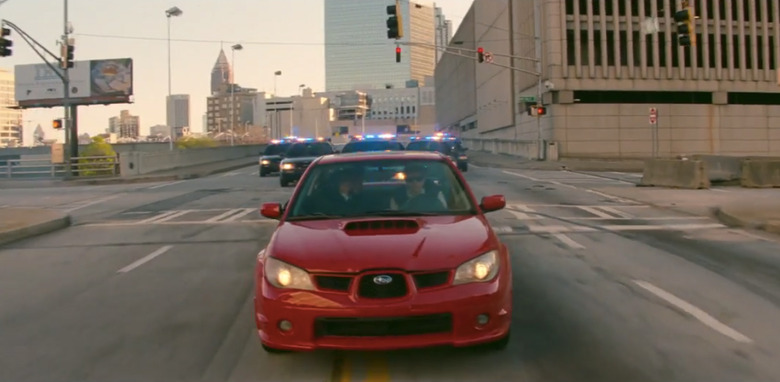 (The Morning Watch is a recurring feature that highlights a handful of noteworthy videos from around the web. They could be video essays, fanmade productions, featurettes, short films, hilarious sketches, or just anything that has to do with our favorite movies and TV shows.)
In this edition, one awesome video maps out the real geography of the opening chase sequence from Baby Driver. Plus, Batman: The Animated Series voice actor Kevin Conroy reads the closing monologue from The Dark Knight, and a video essay takes a closer look at the use of a certain auditory illusion that adds to the suspense and tension in Dunkirk.
When it comes to most car chases, it's difficult to tell where the chase itself itself is happening, even when it's happening in a landmark city. That's mostly because cities like Vancouver or Atlanta usually double for various large American cities. However, in the case of Baby Driver, director Edgar Wright shot the movie in Atlanta, and that's where the story takes place too. That means you can go to various real locations in Atlanta to see where Baby Driver was shot, and this cool video from Vox maps out the opening chase sequence from the movie. As you can see, Edgar Wright fudged the geography a bit with some cuts here and there, but the path that our thieves take looks totally realistic.
Though there will always be debate as to which actor played Batman best, there are plenty of fans who would give that honor to Kevin Conroy, the man who voiced The Dark Knight in Batman: The Animated Series. Now the world of the animated Batman combines with the acclaimed version of The Caped Crusader from Christopher Nolan's The Dark Knight as Kevin Conroy (appearing on the Nerdist podcast Talkin' Toons) reads the speech Batman gives to Commissioner Gordon at the end of the movie when he decides to take responsibility for the death of Harvey Dent.
Speaking of Christopher Nolan, a video essay from editor Christophe Haubursin at Vox takes a closer look at the score for his movie Dunkirk, composed by Hans Zimmer. While you can hear familiar instrumentals that we've heard in several of the compositions that Zimmer has created for Nolan's films, this video essay focuses on something called the Shepard Tone, described as a tri-tone auditory illusion of scales going on without end. It's basically a series of sounds that create a sense of urgency and building tension, and it's incredibly effective.