'Bodied' Trailer: Eminem Produced This Rap Battle Satire Heading To TIFF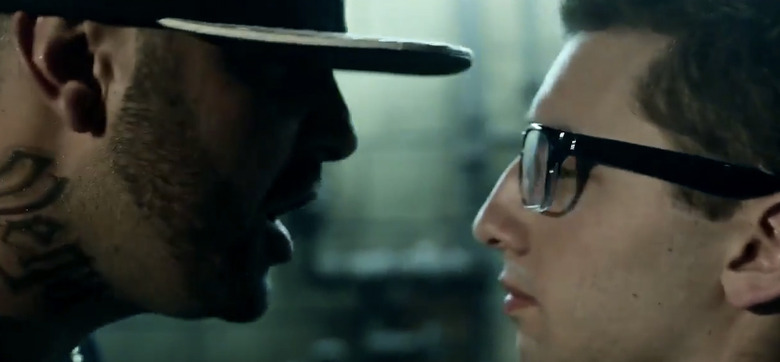 This sounds like a big year for Eminem. Not only does the rapper have a new album that might hit shelves before the end of the year, but he produced an outstanding new HBO documentary series called The Defiant Ones that looked at the careers of Dr. Dre and Jimmy Iovine, which paved the way for the young man named Marshall Mathers to become one of the biggest rap sensations of all time. But that's not all Eminem has going on this year.
Bodied is a new indie heading to the Toronto International Film Festival that is produced by Eminem and said to focus on the world of rap battling. But unlike the semi-autobiographical 8 Mile, this movie is a satirical look at rap battling instead of just being one part of the story about a young, aspiring Detroit rapper just trying to get by. The Bodied trailer has debuted online before the film plays at TIFF next month and you can watch it below.
Eminem's Bodied Trailer
The trailer is actually a single scene, showcasing a rap battle between rappers named Megaton and MC Goggles, the latter getting some vitriol spewed out at him in speedy fashion. The lyrics are outstanding, which should come as no surprise since the script was written by real life rap battle champion and Toronto native Alex "Kid Twist" Larsen. That doesn't necessarily mean that he knows how to write a story that makes an indie movie about rap battling compelling, but at least we know the rap battles themselves will be good.
Directing the movie is Joseph Kahn, who cinephiles might know for being at the helm of the 2004 motorcycle racing movie Torque, or the gritty R-rated Power Rangers short film that was released in 2015. However, Joseph Kahn is more celebrated and better known in the music video world for being one of the best music video directors in the business. He's worked with the likes of Britney Spears, Taylor Swift, Lady Gaga, U2, Destiny's Child, Katy Perry, Maroon 5, Janet Jackson, Backstreet Boys, TLC, and of course, Eminem.
Bodied feels like the perfect movie for a music video director to tackle, but hopefully it's more than just a flashy presentation of rap battles that drives the movie. There needs to be a good story at the center of Bodied for it to be more engaging than a music video. Helping bring the story to life will be Anthony Michael Hall, Debra Wilson, Charlamagne tha God, and Calum Worthy, not to mention rappers like Loaded Lux, Dizaster, Dumbfoundead, and Hollow Da Don.Bodied will premiere at TIFF in September but doesn't have an official release date yet.