Exclusive: 'Cannonball Run' Remake Will Blend 'Fast And Furious' With 'Ocean's 11' Says Director Rawson Marshall Thurber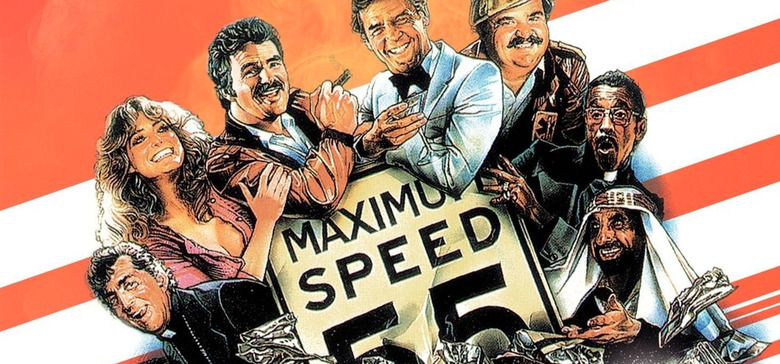 Writer/Director Rawson Marshall Thurber was on a Television Critics Association panel for his new YouTube comedy series Ryan Hanson Solves Crimes on Television. After the panel, he spoke with /Film about his upcoming film projects. He'll make Skyscraper with Dwayne Johnson next, but he's still attached to a remake of The Cannonball Run.
"Cannonball is about to be written by Tom Lennon and Ben Garant, so we'll see if that comes in," Thurber said. "If it comes together, I'd love to go make that."
The two Cannonball Run movies were madcap all-star comedies about drivers in a wacky race, with a cast that included Burt Reynolds, Roger Moore and Jackie Chan. While we live in an age where auto stunts have gotten so extreme that many fans legitimately hope The Fast and the Furious goes into space, Thurber said the new Cannonball could benefit from those stunts, but won't be another Fast and the Furious movie.
"I think we're living in a post or current Fast and Furious world," Thurber said. "So I don't think Cannonball can out-Fast and Furious the Fast and the Furious. That's its own thing, but we definitely want to harness that with the fun of Oceans 11 and put those together. It'll have to be a different thing than Fast, but should have some great car action, obviously."
But first there's Skyscraper, starring Dwayne Johnson, which shoots in a week. "I flew in just for this and we start shooting a week from Monday," Thurber said. "After that, with any luck, it'll be season two of this if it works. Right now I'm focused on Skyscraper with Dwayne."
Thurber confirmed that Skyscraper is essentially Die Hard...in a building. "Yes, it's exactly Die Hard in a building," Thurber said. "Die Hard's one of my all time favorite films and it owes a lot to Die Hard of course, but also Towering Inferno, Cliffhanger, a few other pictures."
The original Die Hard was so successful, other movies became described as "Die Hard in a..." So Under Siege was Die Hard on a boat, Passenger 57 was Die Hard on a plane and Speed was Die Hard on a bus. "There was a great comedy script out there called Die Hard in a Building," Thurber said. "It made the rounds. It was never going to get made. It was mostly a good joke."
Johnson's last film with Thurber, Central Intelligence, was a comedy that poked fun at his heroic image. Thurber intends Skyscraper to be a straight action movie.
"Unless I mess it up, it's not going to be funny," Thurber said. "It'll have moments of levity like Die Hard does, but it's a straight action picture. I was editing Central Intelligence and I came up with the idea and I called up Dwayne. I pitched it to him and he said, 'I love it. I'm in.' and that was it. It originated with me, but he wanted to do it and we're off."
A sequel to the Thurber-directed comedy We're the Millers is still in the works. The script is done, but reuniting the cast is challenging.
"We have a great script from Adam Sztykiel, who created Undatable and just wrote Rampage for Dwayne," Thurber said. "I think it's just a scheduling issue. Jen [Aniston] and Jason [Sudeikis], it's tough to get everybody and now Emma [Roberts] is a success and Will Poulter. It's just about getting everybody together."
Thurber fit the pilot to Ryan Hanson Solves Crimes On Television right between Central Intelligence and Skyscraper. "I finished Central and that came out," he said. "Then I wrote this and managed to get it green lit right before I went to go prep Skyscraper."
Ryan Hanson Solves Crimes On Television, starring Ryan Hanson as himself and Samira Wiley, premieres this fall on YouTube Red.