Four Minutes Of 'It' Footage Coming To Theaters; Watch A Creepy New TV Spot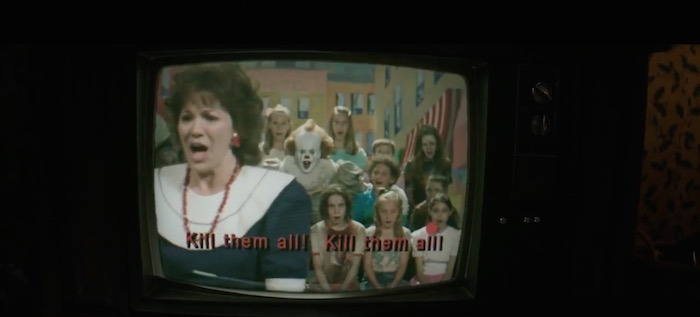 With The Dark Tower receiving almost entirely negative reactions (our own Josh Spiegel couldn't believe how lifeless it is), Stephen King fans are probably ending their week in a sour mood. However, there's a glimmer of hope on the horizon. That is, if you define "hope" as a shapeshifting entity that devours children and often takes on the appearance of a menacing clown named Pennywise.
Andy Muschietti's upcoming adaptation of It is a little over a month away from release and the marketing floodgates have begun to open. While some may argue that King fans need to stop getting their hopes up, I can't help but be excited for this one. A new TV spot, and the news that four minutes of the movie will premiere in theaters next week, are only fueling the fire.
First, let's take a look at this new TV spot, which arrives on the heels of another recent ad that showed off Bill Skarsgård's creepy Pennywise voice. This spot is a bit more in-your-face, concluding with a creepy image that seems have been specifically created for this version of the story: the evil clown himself (itself?) appearing in the background of a children's television show that has a very unpleasant message for our young heroes.
And we'll soon be seeing a lot more of the movie. Trailer Track reports that four-minute clip from the film will play in theaters next week before screenings of (the very, very good!) Annabelle: Creation, allowing audiences an extended look at what's being cooked up here. While our own Ethan Anderton saw footage from the movie at Comic-Con, the more character-oriented clip he watched feels like a poor fit for Friday night audiences going to a horror movie. I wonder if we'll be treated to the iconic opening scene of the story, where young Georgie loses his paper boat to a storm drain and comes face-to-face with Pennywise himself. Both book readers and fans of the original miniseries have that moment branded upon their brain, so it makes perfect sense.
All of this follows a brand new trailer (which we broke down for your convenience right over here) and that followed my visit to the set of the film, where I was impressed by how Skarsgård and Muschietti were tackling the character of Pennywise. While I remain concerned that a novel as dense and terrifying as It will be impossible to translate to the screen, the news that this adaptation will run a whopping 135 minutes suggests that we're getting something a little different than a traditional horror movie. I have my fingers crossed.
When children begin to disappear in the town of Derry, Maine, a group of young kids are faced with their biggest fears when they square off against an evil clown named Pennywise, whose history of murder and violence dates back for centuries.
It opens on September 8, 2017.