Watch Adam Scott Hilariously Replace Bradley Cooper On 'Wet Hot American Summer: 10 Years Later'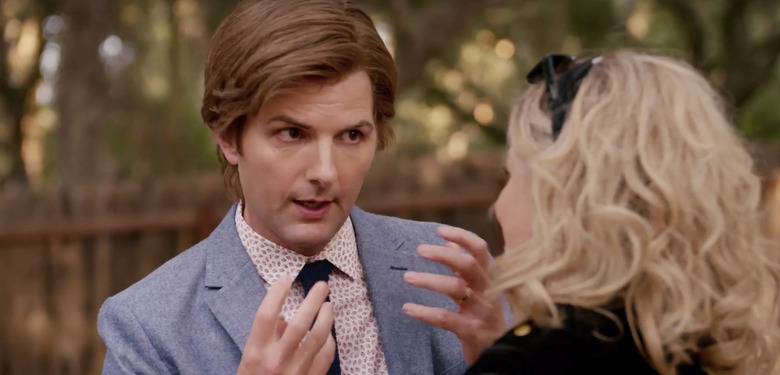 Today brings the highly anticipated sequel series Wet Hot American Summer: 10 Years Later to Netflix. It fulfills the promise from the end of the original movie that debuted in 2001 that the counselors of Camp Firewood would reunite in 10 years to see what their lives had become. The whole star-studded gang is coming back, except for one person, but that absence comes with a hilarious explanation that is perfect for Wet Hot American Summer.
Bradley Cooper was unfortunately unavailable to reprise his role as Ben, the secretly gay theater nerd who had been dating Susie, played by Amy Poehler, while really being in love with fellow camp counselor McKinley (Michael Ian Black). But since Michael Showalter and David Wain had already come up with a storyline for his character that they just couldn't abandon, they did the next best thing: replaced Bradley Cooper with Adam Scott. How will this be addressed on the show? Since this is Wet Hot American Summer, the answer is ridiculously and hilariously.
Find out why Adam Scott replaced Bradley Cooper on Wet Hot American Summer and how it's explained below.
Here's a Wet Hot American Summer: 10 Years Later clip quickly explaining the casting switch:
It turns out Ben (Cooper/Scott) had a deviated septum, and he got some corrective surgery to take care of it. The result is just a slight change in a appearance, which Susie (Poehler) notes makes him look even better than he did before. All the screaming women (and men) who love the handsome Bradley Cooper might have something to say about that, but Scott is pretty damn handsome in his own right.
Anyway, Entertainment Weekly talked to Michael Showalter about the casting change, which they easily embraced comedically, just like one of the most iconic comedy franchises of all time. Showalter says:
"I'm reminded of the sequel to Vacation, European Vacation, and there's someone else who played Anthony Michael Hall's character, and it's just sort of ridiculous. I like unapologetically just swapping out the actor. The idea that seemed so silly was that he had a nose job and is worried that people won't recognize him, and the joke is that everybody recognizes him completely and says that you can barely notice it. Essentially what we're saying is: If Bradley Cooper got a nose job, he would look like Adam Scott."
Bradley Cooper was too busy directing and starring in the remake of A Star is Born with Lady Gaga to reprise his Wet Hot American Summer role, and though he was also too busy to comment on this casting revelation to EW, David Wain reassures everyone that Cooper thought their approach was very funny. Plus, they had to do a similarly ridiculous thing in the prequel series First Day at Camp by covering his character's face with a ski mask for a bit.
Furthermore, if you're wondering if this precludes Bradley Cooper from appearing in Wet Hot American Summer again, Wain says that he could easily be brought back, presumably with either a new character or yet another ridiculous explanation for his change in appearance.
However, fans may not necessarily be keen on Bradley Cooper returning to the role, because as hilarious as the actor is when he tackles comedy like this, the situation now makes for quite a wonderful Parks and Recreation reunion between Adam Scott and Amy Poehler, especially since his character is named Ben.
The rest of the returning Wet Hot American Summer cast includes Elizabeth Banks, Paul Rudd, Marguerite Moreau, Janeane Garofalo, Christopher Meloni, Ken Marino, Joe Lo Truglio, Molly Shannon, Michael Ian Black, Zak Orth, Michael Showalter, Kristen Wiig, Marisa Ryan, H. Jon Benjamin, Lake Bell, David Wain, A.D. Miles, Nina Hellman, John Early, Josh Charles, Sarah Burns, Beth Dover, Chris Pine, David Hyde Pierce, Eric Nenninger, Jason Schwartzman, Rich Sommer, and Samm Levine.
Meanwhile, Adam Scott joins a slate of fresh blood on the series that includes Skyler Gisondo, Mark Feuerstein, Marlo Thomas, Joey Bragg, Jai Courtney, Dax Shepard and Alyssa Milano. The latter in that line-up is actually playing a nanny named Renata, who takes care of the baby that Ben has with McKinley (Michael Ian Black).
Wet Hot American Summer: 10 Years Later is available now on Netflix.