Cool Stuff: Fanmade LEGO Voltron Is Becoming An Official Set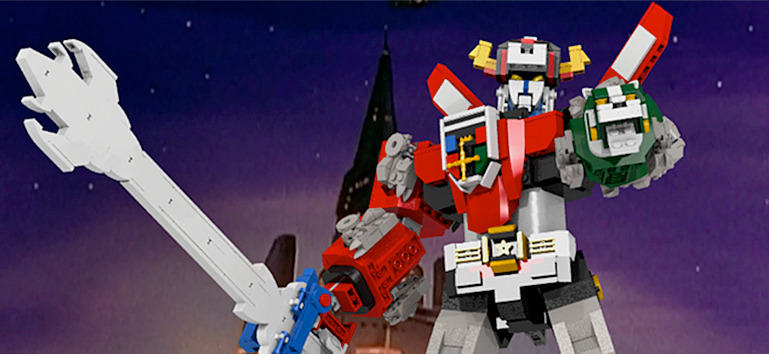 We've featured plenty of custom LEGO sets here, but only a handful of them get a legitimate shot at being turned into real sets that end up on the shelves of toy stores around the world. Thanks to the creation of LEGO Ideas, master builders have a chance at having LEGO fans vote on which custom sets they'd like to see go in front of the board that decides which of the sets get turned into official LEGO products. One of those sets has been given the greenlight.
Soon LEGO builders will be able to assemble five lion robots to form the giant robot known as Voltron: The Defender of the Universe. That's right, an official LEGO Voltron set has been approved, and if you missed it the first time around when we featured it as a custom creation last spring, you can check out images below.
Here are some images of the LEGO Voltron set as they appeared on the LEGO Ideas page:
Remember, even though this set has been approved for production, the final product may not appear exactly as it does above. As has been the case with LEGO Ideas custom sets that have been approved for production, such as the Back to the Future DeLorean time machine, the Ghostbusters Ecto-1 and Pixar's WALL-E, the final set makes some changes as the official LEGO master builders see fit to make the most efficient set possible. But as we've also seen with those sets, there haven't been any drastic departures from the original designs.
As we said the first time this custom set surfaced online, it's awesome that LEGO builders will get to put together the lion robots, and then assemble those to create Voltron. We wish that some other sets were just as fortunate, but that's the way the cookie crumbles.
Only one other LEGO Ideas set was approved for production, and that's a neat ship in a bottle set. You can get more details on that right here. Sadly that means sets like The Iron Giant, The Bus from Agents of SHIELD, a more impressive Hulkbuster from Avengers: Age of Ultron and an Ultimate Collector's Series of Rey's Speeder from Star Wars: The Force Awakens got turned down.
The next board approval happens this fall, and it includes the possibility of getting the Blues Mobile from The Blues Brothers, a lightcycle from TRON Legacy, the Mighty Morphin' Power Rangers command center, the offices of Dunder-Mifflin from The Office and other sets that aren't tied to movies or TV shows. We'll be sure to let you know how that one turns out.