'Will & Grace' Reboot Already Renewed For Season 2 [TCA 2017]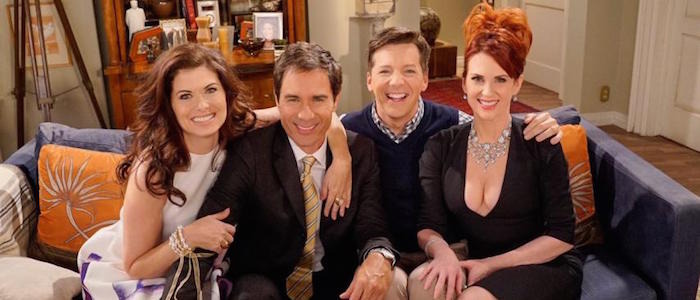 This morning, NBC Entertainment Chairman Robert Greenblatt said he's hopeful to do more than one season of the return of Will & Grace. Later in the afternoon, he introduced the Will & Grace panel by confirming that he's ordered a second season and added four more to the first season, bringing it to a total of 16 episodes.
"I'm happy to say we just got all of our business done," Greenblatt said. "We're announcing today we're ordering a second season, 13 more episodes for next year."
Creators Max Mutchnick and David Kohan hinted at how the season premiere explains how the gang is all back together. "Our job starting the show out and getting it reestablished is going to be about resetting the rules," Mutchnick said. "We spent the most time in story camp figuring out what would be the best way to tell the audience exactly where they are at and what they are up to at this time. We think we came up with the right way to do that. We just want to hold off on telling you exactly what that is because it will take away some of the fun. It's not anything that's going to surprise you."
All signs point to a reunion of sorts, as Will (Eric McCormack) and Grace (Debra Messing) decide to become roommates again. "They haven't been living together for the entire time we haven't seen them," Mutchnick said.
After the panel, Messing indicated that Grace's interior design career is going well. This illuminated Kohan's earlier comment about bringing Will and Grace back together. "Circumstances bring them together again," Kohan hinted. "They live their lives. As times change, as you get older you shift the prism of your perspective."
However, the new show won't be agenda driven. Topical humor will only come in service of the story. "You can't write a sitcom about concepts or ideas," Kohan said. "You write about characters. They live in the world and have opinions. To that extent it reflects the culture. To try to tackle those things head on I don't think does justice."
The election video that got the whole cast together in the first place revealed that Karen (Megan Mullally) was voting for Trump. Since he will be the sitting president when the show returns, that provides some comedy.
"The conflict is if one character is a Trump supporter and one isn't, there's conflict, rather than a bunch of people hammering at the same person," Kohan said.
The cast also hopes the evolving LGBTQ rights movement will be addressed. "When we started, it was revolutionary to have two gay characters," Messing said. "What we were able to address at the time was LGB. We stopped at B. My hope is that now we can finish the alphabet. With gender identity, there are so many things being discussed in our culture."
Mutchnick and Kohan also hope to make the previous eight seasons of Will & Grace available on streaming services soon. James L. Burrows is returning to direct all 16 season one episodes.
"It's as important as any piece up here on this stage," Mutchnick said. "He's just older than us and doesn't care as much. He gets to be at home in his gorgeous house and not put on a suit. Jimmy is the conductor of this orchestra."
Will & Grace is now shooting on the Universal Studios lot. Mutchnick said they could have returned to the original stage at CBS Radford, but preferred the new option.
"It was all available to us, but nothing was better than what Bob [Greenblatt] offered," Mutchnick said.
Will & Grace returns September 28 on NBC.