Calling All '30 Rock' Fans, Tina Fey Is Joining 'Great News' And You Better Be Watching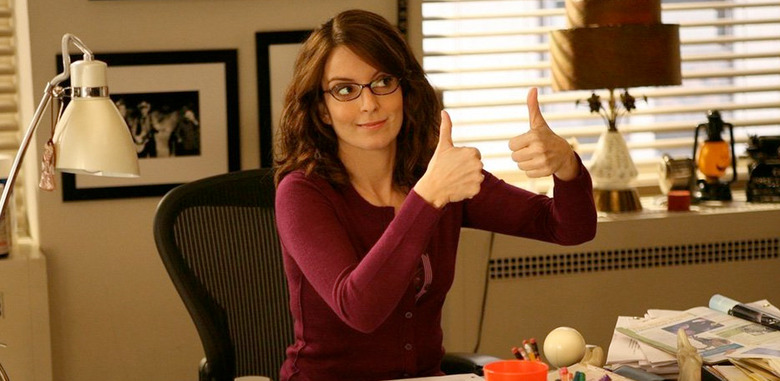 We may receive a commission on purchases made from links.
It's been over four years since Tina Fey and Robert Carlock's hit, Emmy-winning comedy series 30 Rock came to an end on NBC. Thankfully, their series The Unbreakable Kimmy Schmidt on Netflix has helped fill the void, but the network that turned Tina Fey into a star on Saturday Night Live is about to bring her back to primetime.
Earlier this year, NBC brought the freshman comedy series Great News to air. Created by 30 Rock producer and writer Tracey Wigfield (and again executive produced by Tina Fey and Robert Carlock), the series follows a news reporter (Briga Heelan) who is forced to deal with her eccentric mother (Andrea Martin), who has just become an intern at the network news program for which she works. Surrounding them is quite the odd team of news anchors, producers, and staff members, making for a show that's like The Newsroom meets 30 Rock.
Great News had a solid first season that shows the potential for greatness, just like 30 Rock, and for the second season coming this fall, they'll be getting a little help from Tina Fey, who is joining the series for an extended arc. Find out more below.The AV Club has word of Tina Fey joining Great News season 2, though details on her character are scarce at this moment. The casting was announced during NBC's panel at the Television Critics Association where it was revealed that Fey would be playing a character named Diana St. Tropez, described as a business executive like Facebook COO Sheryl Sandberg on steroids, who is idolized by Briga Heelan's main character Katie. She also happens to be the author of a new book called Boss Bitch, which seems to be playing off Tina Fey's fantastic, bestselling book Bossy Pants.
If you haven't watched Great News, this should be a good reason to catch up. The first season only has 10 episodes, which makes it a breeze to binge watch. If you go in not expecting the show to be as great as the best episodes of 30 Rock, you'll be satisfied. It's still figuring itself out, much like 30 Rock was throughout its first season, but there is some sharp writing here and outstanding characters that I'm looking forward to seeing grow in the 13 episodes ordered so far for a second season.
In addition to the leads played fantastically by Briga Heelan and Andrea Martin, There's John Michael Higgins as the senior, insecure news anchor and Nicole Richie as his young, trendy social media obsessed co-anchor. It's hard to believe, but Nicole Richie is actually great in this show. I wouldn't go so far as to say she's the breakout character, but she's been surprisingly hilarious. There's also Adam Campbell and Horatio Sanz bringing the funny, not to mention Tracey Wigfield herself in a recurring bit role as the station's odd weather woman.
Great News returns for its second season on NBC on September 28th at 9:30pm ET/8:30pm CT.