'Pacific Rim Uprising' Gets A New Release Date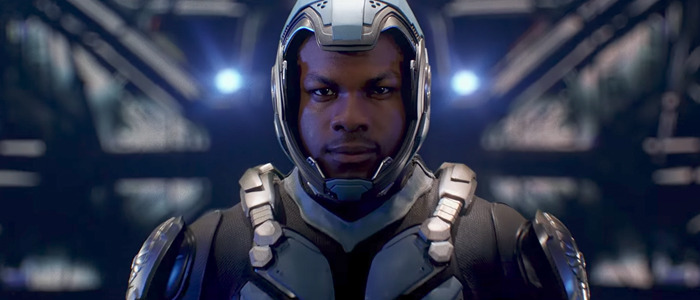 It turns out that you'll have to wait a little bit longer to watch Star Wars: The Force Awakens star John Boyega pilot a giant robot so he can punch monsters in the face. Pacific Rim Uprising, the upcoming sequel to Guillermo del Toro's incredibly entertaining 2013 science fiction adventure, has been pushed back. But just a little bit. A teensy bit.
Deadline reports that Pacific Rim Uprising will now open on March 23, 2018, one month later than the original February 23, 2018 release Universal had set for the film. No official reason has been given for the delay, but it could be any number of things – the filmmakers realized they needed a little more time to finish the movie, marketing research suggested that March is kinder to movies about robots smashing alien monsters, etc. Who knows?
The only peculiar thing about this release date change is that March is a far more crowded month for geek fare like this. Sure, the original release date would have seen Steven S. DeKnight's sequel dealing with fallout from Marvel's Black Panther (which is going to be an enormous hit), but this is very much an "out of the frying pan and into the fire" situation. In its new release date, Pacific Rim Uprising will have to contend with Lionsgate's new Robin Hood movie before going head-to-head with Steven Spielberg's Ready Player One the following week.
In any case, Universal seems to think they have a potential franchise here. The first film, as fun as it was, underperformed in the United States while making a pretty penny on the international stage. Perhaps this new release date has less to do with the film's domestic prospects and more to do with positioning it as a global blockbuster. While it's disappointing to see del Toro no longer in the director's seat here (The Shape of Water looks preeeeetty good though) DeKnight has proven himself to be a capable force on the small screen, working on shows like Daredevil and the shockingly great Spartacus. I'm very curious to see what this movie looks like and how audiences respond to it.
John Boyega headlines Pacific Rim Uprising as the son of Idris Elba's character from the first movie. Rinko Kikuchi, Charlie Day and Burn Gorman are set to return from the original ensemble, with Scott Eastwood, Jing Tian, Cailee Spaeny, and Adria Arjona joining the line-up. As always, the giant monsters will be played by pixels and many late nights at a visual effects company. You can watch the first teaser for the film right here.