Now Stream This: The Late And Great Sam Shepard, Some Stephen King, And One Of The Creepiest Movies Ever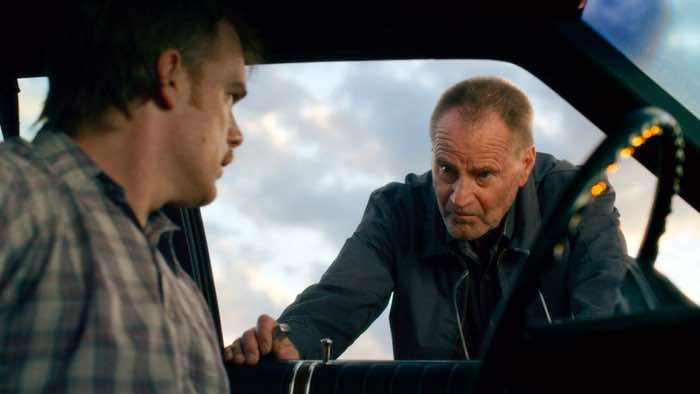 (Welcome to Now Stream This, a column dedicated to the best movies streaming on Netflix, Amazon, Hulu, and every other streaming service out there.)Crank the air conditioner – August is upon us, bringing with it the dog days of summer and the realization that the winter is more terrifyingly close than ever. But there's still plenty of time left to stream movies. In fact, you have your entire life to do that, so why not get started now? If you're unsure of just what to watch, never fear – Now Stream This is here.In this edition, we have a recent film with a stellar performance from the late, great Sam Shepard; one of the most genuinely creepy ghost movies ever made; an ambitious, often misunderstood sci-fi epic; a Stephen King adaptation; one of the strangest sequels in Hollywood history, and much more! So dab some sunscreen on your nose and pull the recliner up nice and close to the TV. Let's get streaming.
Now Streaming on Netflix
Actor and playwright Sam Shepard died earlier this week. Shepard's death is a great loss to film and theatre, but at least he leaves behind a wealth of work to cherish. There's plenty to pick from to highlight Shepard's talent, but one of the best recent examples is Jim Mickle's 2014 thriller Cold In July. Adapted from a story by Joe R. Lansdale and throwing off some serious John Carpenter vibes, Cold In July features Michael C. Hall as a man who kills a home intruder, only to be drawn into a much bigger and far more sinister plot with the dead intruder's father, played masterfully by Shepard. Don Johnson also shows up, and nearly steals the whole film, but this is a perfect showcase for Shepard's talents.
For fans of: Hap and Leonard, Christine, Blue Ruin, mullets.
2. The Friends of Eddie Coyle
Now Streaming on FilmStruck
If you like your crime dramas bleak and grainy, don't miss Peter Yates' marvelous, depressing The Friends of Eddie Coyle. Robert Mitchum gives a career-best performance as weary, aging bakery truck driver Eddie Coyle. To make ends meet, Coyle runs guns on the side – a smooth operation that goes south very quickly. One of those '70s flicks where the film grain is essentially a character itself, The Friends of Eddie Coyle is melancholy and memorable, just don't sit down to watch it expecting a feel-good experience.
For fans of: The Taking of Pelham One Two Three, The Town, existential woe.
Now Streaming on Shudder
This criminally underseen 2010 Australian chiller from Joel Anderson is the rarest of the rare: a modern horror movie that's actually scary. And I'm not talking about cheap jump scares here. No, Lake Mungo is a ghost story that creeps under your skin and chills your blood, having you nervously looking around once it's over. A found-footage style story of a family coming to terms with the sudden death of a loved one who may or may not have entirely departed. This is the perfect horror film to watch in your living room with the lights turned down. Just don't be surprised when you're quickly turning them back on once the credits are rolling (oh, and by the way, keep watching all the way through the credits for even more creepiness).
For fans of: Session 9, Paranormal Activity, The Others, getting the creeps.
Now Streaming on FilmStruck
Otto Preminger's brilliant film noir sets up a seemingly straightforward mystery: who killed successful advertising executive Laura Hunt (Gene Tierney)? But nothing is straightforward in Laura, and the film travels down dark alleys you wouldn't have suspected as the cop investigating the case (Dana Andrews) finds himself smitten with the dead dame. Somehow simultaneously breezy and disturbing, Laura is one of the best movies Hollywood ever produced, so you should probably get around to watching it if it's somehow escaped you all this time.
For fans of: Anatomy of a Murder, The Big Sleep, Touch of Evil, Vincent Price without a mustache.
Now Streaming on Netflix
Even if you don't entirely like Cloud Atlas, you have to appreciate it for the ambitious, wild film experience that it is. The Wachowskis and Tom Tykwer adapted David Mitchell's novel into a sprawling 171 minute extravaganza. Multiple plots stretch out across six different time periods, from the past into the distant future, with a cast that includes Tom Hanks, Halle Berry, Jim Broadbent, Hugo Weaving, Jim Sturgess, Ben Whishaw, Hugh Grant and many, many more, all playing multiple characters. It's almost impossible to summarize this movie – you just need to see it to believe it.
For fans of: The Fountain, The Matrix, The Hours, Tom Hanks using an incredibly unconvincing Irish accent.
Now Streaming on Hulu
There's a big Stephen King adaptation hitting theaters this week – The Dark Tower, which, by most accounts, is a bit of a bust. So if it's a good King adaptation you're seeking, look no further than David Cronenberg's chilly adaptation of King's novel about a man who ends up in a coma only to awaken with psychic powers. Christopher Walken is that man, and he's predictably great in the part. Also great: Martin Sheen, playing a political candidate that seemed kind of far fetched in 1983 when the film was released, but who now seems all too terrifyingly real. One of Cronenberg's less icky '80s horror films, but still incredibly effective.
For fans of: Dead Ringers, Minority Report, Christopher Walken's hair.
Now Streaming on Shudder
Michael Shannon gives one of the best performances in his acclaimed career in Jeff Nichols' frequently unsettling Take Shelter. Shannon plays Curtis, an average working class guy who suddenly starts having terrifying nightmares that warn of impending doom. The nightmares begin to seep into his waking life, leading to a construction of an underground shelter and increasingly erratic behavior, much to the concern of Curtis' wife (Jessica Chastain). Nichols, who helmed the recent, criminally underseen Midnight Special, brings his usually steady, slow-burn style to an increasingly scary film, but the real draw here is Shannon's remarkable performance.
For fans of: Midnight Special, Mud, In The Mouth of Madness, Michael Shannon acting his ass off.
8. Bill and Ted's Bogus Journey
Now Streaming on Amazon Prime Video
The first Bill and Ted film, Bill and Ted's Excellent Adventure, is coming to streaming services this month, but we're going to go against the grain here and recommend the off-the-walls 1991 sequel, Bill and Ted's Bogus Journey. Hollywood has never made a sequel quite this crazy before, and that's worth celebrating. Once again, rock-n-roll airheads Bill (Alex Winter) and Ted (Keanu Reeves) find themselves in over their heads, but there's no silly time travel adventure this time. Instead, the pair end up being murdered by evil their robot doppelgangers, leading to a trip into the afterlife that includes a stop in heaven, hell and a partnership with a Seventh Seal-inspired Grim Reaper (William Sadler). Oh, also, there are aliens, Pam Grier and an utterly terrifying Easter Bunny. This movie is just bonkers, in the best possible way.
For fans of: Bill and Ted's Excellent Adventure, The Seventh Seal, Freaked, the Grim Reaper rapping.
Now Streaming on Hulu
Speaking of bonkers, the 1989 cult classic Teen Witch is coming to Hulu in all its acid washed glory. The original plan for the film was a female version of the popular Michael J. Fox comedy Teen Wolf, but the end result was something more like a bad dream you have after eating too much cake icing. A nerdy high school girl (Robyn Lively) suddenly discovers she has magical powers, which she then uses to become popular. For some reason that no one will ever be able to explain, the characters in Teen Witch occasionally burst into rap numbers, even though the film isn't really a musical. It's all so charmingly silly that you can't help but becoming a fan.
For fans of: Man, I don't even know. Just watch that clip above and tell me you wouldn't want to watch this movie.
Now Streaming on Amazon Prime Video
Warning: if you're over the age of 21, watching Nerve will make you feel very, very, very old. But this neon-lit thriller from Ariel Schulman and Henry Joost is still a lot of fun, and has a killer soundtrack to boot. Emma Roberts is a play-it-safe teen who suddenly gets thrust into the wild world of Nerve, an online game where strangers dare players to do outrageous stuff in public for cash. It all seems like mostly-harmless fun at first, then things get dangerous. Schulman and Joost find inventive ways to integrate technology into the film, a stylistic choice that really makes the film pop.
For fans of: The Game, Would You Rather, lots and lots of neon.