James Bond 25: Rumors Swirl About The Title, Villains And More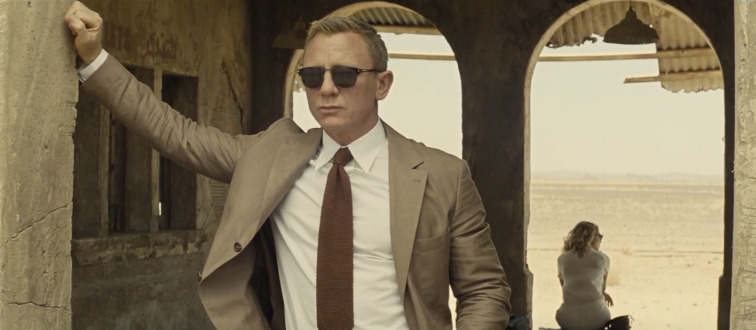 Now that we know James Bond 25 is happening and that Daniel Craig is most likely returning for one more go-around as 007, it begins — the endless circulation of James Bond rumors and news that may or may not turn out to be true.
So here we are. Bond Watch: Day 1. James Bond 25 may be titled Shatterhand and see the British super agent face off against a blind supervillain.
British tabloid paper The Mirror — which I must emphasize, has an extremely sketchy track record with Bond news items and must be taken with several grains of salt — is reporting that the 25th James Bond movie will be based on the 2001 Bond novel Never Dream Of Dying by U.S. author Raymond Benson, who was the official writer of the Bond books from 1997 to 2003. He also wrote the novelizations of several Pierce Brosnan Bond movies including Tomorrow Never Dies, The World is Not Enough, and Die Another Day, in addition to several original 007 adventures.
Never Dreams of Dying begins with a police raid in France that goes horribly wrong, prompting Bond to go on the hunt for the perpetrator, meeting a seductive actress with a sordid past along the way. If true (and the "if" there is a big one), this would be a big break from the norm. A Bond film has never adapted a Bond book not written by Ian Fleming, choosing to create original adventures instead of borrowing from the authors who followed in the footsteps of the creator of Agent 007.
A source to The Mirror told the tabloid:
"Bond scriptwriters feel it could be the perfect follow-up to Spectre. They are hoping to film in Croatia next year."
Insiders also told The Mirror that producers were at odds with a local mayor, who revealed the film was scouting for locations in Dubrovnik.
So, how much of this can we accept as fact? I have no idea.
This is a cycle that repeats itself every time a new Bond movie is announced: U.K. tabloids break "exclusive" news that turns out to be hogwash, and we end up knowing as little as we did before. It is very early in the development process of Bond 25, with EON announcing the film's 2019 release date last week and unofficial word of Craig's involvement arriving shortly after. So it's likely the producers will prioritize developing the script and choosing the director before they scout shooting locations.
The news that Dubrovnik is being scouted as a filming location could well be true, but that Croatian town is also a main shooting location for Game of Thrones, which uses Dubrovnik as its setting for King's Landing. So a local mayor revealing information about filming in Dubrovnik may just be speaking of the HBO show. However, the city has become a blockbuster hot spot in recent years, with Star Wars: The Last Jedi filming key scenes there.
James Bond 25 will be written by longtime Bond writers Neal Purvis and Robert Wade and will arrive on November 8, 2019, four years after the last release, Spectre.