'Mindhunter' Trailer: David Fincher's Netflix Series Goes Inside The Psyche Of Psychopaths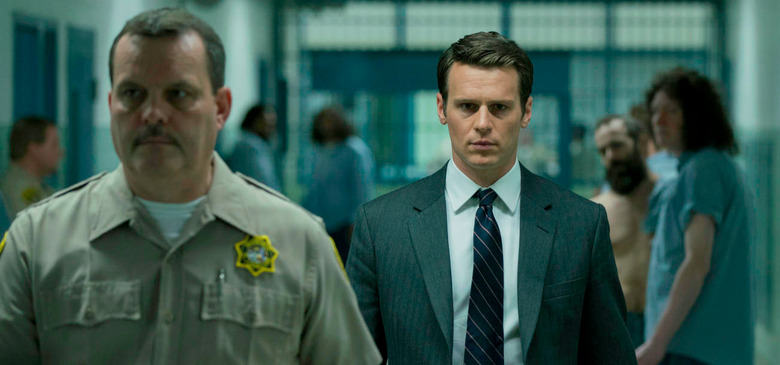 Director David Fincher has tackled crime thrillers with fantastic, acclaimed results in films like Panic Room, Zodiac and The Girl with the Dragon Tattoo. Now he's returning to the genre, but this time in serial form on Netflix.
Mindhunter is a new Netflix original series based on on Mindhunter: Inside the FBI's Elite Serial Crime Unit, a non-fiction book by John Douglas and Mark Olshaker about agents of the FBI's Investigative Support Unit which set out to get into the mindset of serial killers and psychopaths so that they might have an easier time identifying and catching them. A new trailer for the series has arrived, and it looks like exactly the kind of gripping crime drama we'd expect from a filmmaker like David Fincher.
Netflix's Mindhunter Trailer
Jonathan Groff (Glee) leads the series as Holden Ford, an agent in the FBI's Behavioral Science Unit teamed with Holt McCallany as fellow agent Bill Tench. Both face opposition at every turn as no one seems to see the benefit of better understanding the concept of crazy back in 1979, even 10 years after psychopaths like Charles Manson made their mark on the world. It's amazing to think how clueless our justice system used to be when it came to criminal investigation.
Netflix has found plenty of success with their crime-centric programming, like the documentary series Making a Murderer, so it only makes sense that they would keep the trend going with a dramatized take on true crime. Getting a filmmaker like David Fincher to tackle it (he's producing the series and directs three of the 10 episodes in the first season) only sweetens the deal, especially since he helped launch one of their earliest original series endeavors, House of Cards.
With Mindhunter, it seems like he's crafted something akin to Zodiac meets the first season of True Detective, which is really all I need to know in order to set aside some time to binge watch it this fall. Plus, I'm intrigued by seeing Jonathan Groff in the lead, which could open up some new opportunities for the Glee and Looking star to get a little more dark and gritty.
Charlize Theron is also producing Mindhunter, and Andrew Douglas (The Amityville Horror) and Asif Kapadia (Sena) directed episodes in the first season alongside Fincher. The rest of the cast includes Anna Torv (Fringe), Tobias Lindholm (The Hunt) and Cotter Smith (X2).Mindhunter debuts on Netflix on October 13, 2017.