'Call Me By Your Name' Trailer: Summer Lovin' Happens So Fast In The Sundance Favorite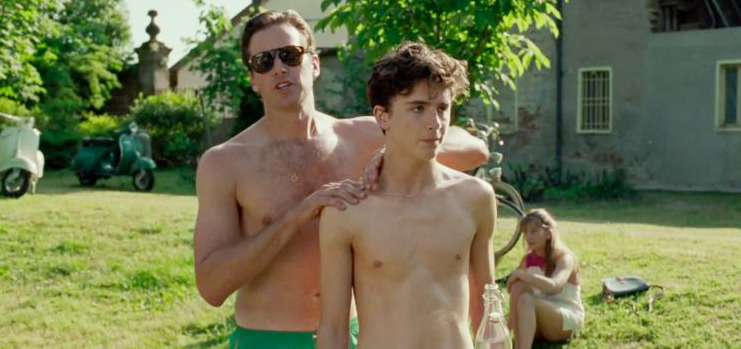 While plenty of our favorite films from the 2017 Sundance Film Festival have been hitting theaters over the summer, from the odd but charming Brigsby Bear to the breakout indie hit The Big Sick, there are still a few that have been held back from release. One of those movies is a wonderful coming-of-age romance set in Italy in 1983, and the first trailer has finally arrived.
Call Me By Your Name focuses on a 17-year old boy named Elio (Timothée Chalamet) spending the summer in his family's villa, spending his time playing classical music, reading, swimming or flirting with his friend Marzia. But when a handsome, charming 24-year old American doctoral student named Oliver (Armie Hammer) moves into the house as an intern for Elio's professor father (Michael Stuhlbarg), his fascination with the twentysomething man leads him to a personal discovery that will change his life forever.
Call Me By Your Name Trailer
Not only is Armie Hammer irresistibly charming in this movie, turning in what might be the best performance of his career, but we see the rise of a fine young actor in Timothée Chalamet, who gives a breakthrough performance as our main character, one that is subtle and thoughtful. And don't sleep on Michael Stuhlbarg in this movie, who initially seems like he has a thankless role, but comes through with a moving scene towards the end of the film that we won't spoil here.
Director Luca Guadagnino (A Bigger Splash, I Am Love) has created such a wonderful romance here that you'll be surprised by how engrossed you are by this coming-of-age tale. Our own Angie Han noted in her review from Sundance just how sensual of a movie this is thanks to the filmmaker's direction, "Guadagnino sets the mood with lingering shots of juicy peaches and runny eggs, and a soundtrack of buzzing insects. You can practically feel the late-summer heat on your skin, and the ripening desire that comes with it."
Having already seen this movie at Sundance, the movie placed high on the list of my favorite movies of 2017 (so far), and you would do well to seek it out when it starts rolling into theaters this fall.
It's the summer of 1983 in the north of Italy, and Elio Perlman (Timothée Chalamet), a precocious 17- year-old American-Italian boy, spends his days in his family's 17th century villa transcribing and playing classical music, reading, and flirting with his friend Marzia (Esther Garrel). Elio enjoys a close relationship with his father (Michael Stuhlbarg), an eminent professor specializing in Greco-Roman culture, and his mother Annella (Amira Casar), a translator, who favor him with the fruits of high culture in a setting that overflows wit h natural delights. While Elio's sophistication and intellectual gifts suggest he is already a fully-fledged adult, there is much that yet remains innocent and unformed about him, particularly about matters of the heart. One day, Oliver (Armie Hammer), a charming American scholar working on his doctorate, arrives as the annual summer intern tasked with helping Elio's father. Amid the sun-drenched splendor of the setting, Elio and Oliver discover the heady beauty of awakening desire over the course of a summer that will alter their lives forever.
Call Me By Your Name hits select theaters starting on November 24, 2017 and expands in the weeks following.