The Morning Watch: History Of Movie Title Sequences, Jedi Vs Medieval Knights Battle Simulation & More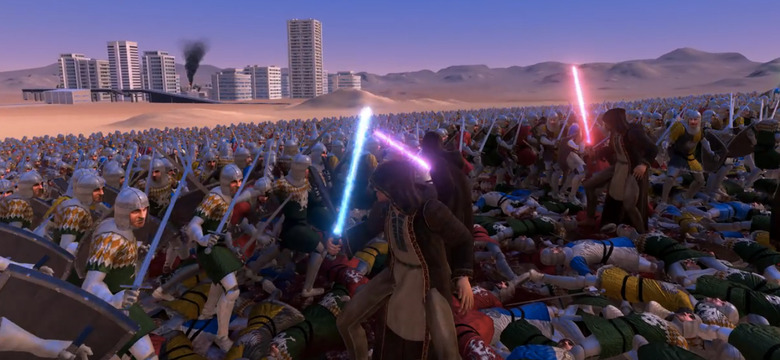 (The Morning Watch is a recurring feature that highlights a handful of noteworthy videos from around the web. They could be video essays, fanmade productions, featurettes, short films, hilarious sketches, or just anything that has to do with our favorite movies and TV shows.)
In this edition, a video essay runs through the history of movie title sequences and how they've evolved since taking off in the early 1900s. Plus, an epic battle simulator imagines how a war between 300 armed Jedi and 60,000 Medieval Knights might play out while another video shows us some of the most impressive cosplay from this year's San Diego Comic-Con. Check out all those videos below.
The always thorough and informative crew at Filmmaker IQ put together this video essay that dives into the history of movie title sequences, looking back at when they were as simple as only a title card before a movie and venturing through the the more complex opening title sequences in recent years. The video essay includes showing when opening credits started to shift to being shown at the end of the movie, and how those have evolved to include post-credits scenes and more.
Not much more needs to be said about this video other than the fact that it features a battle between 300 armed Jedi taking on 60,000 Medieval Knights. The war is waged on a program called Ultimate Epic Battle Simulator by the YouTube channel SergiuHellDragoonHQ. At the 10-minute mark, the battle was attempted with just 100 Jedi and they lost. But with 300 Jedi, they easily win the battle, cutting through knights with lightsabers and Force pushing hordes of them. It's quite entertaining to watch.
Finally, with some little tidbits of leftover San Diego Comic-Con content still rolling through the internet, here's a nice assembly of some of the best cosplay caught on camera by Sneaky Zebra at this year's convention. Rather than just looking at a gallery of images featuring cool cosplay, it's nice to see it in action with each of the fans showing themselves in character. The video creators even use some transitions tied to the cosplayers in question.