WTF: There's A New 'Cop And A Half' Movie Coming Next Week, Watch The Trailer Right Now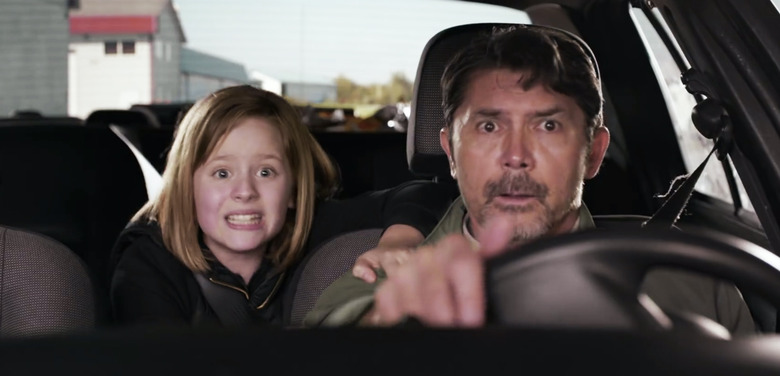 Teaming up two unlikely partners for a buddy cop comedy is a cinematic cliche. That formula gets even more ridiculous when one of those characters is a grizzled, grumpy detective and the other is a precocious, ambitious little kid. We've seen this exact scenario play out before in the 1993 family comedy Cop and a Half starring Burt Reynolds, and now that premise is being revived for a reboot.
Cop and a Half: New Recruit sees Lou Diamond Phillips playing a detective not all that dissimilar from the one Burt Reynolds played in the original 1993 version. But this time, the cop in question is teamed up with a spunky 12-year old girl (Lulu Wilson of Ouija: Origin of Evil and Annabelle: Creation) eager to lay down the law. Believe it or not, this is a real movie getting released next week and you can watch the trailer right now.
Cop and a Half: New Recruit Trailer
The trailer for this future classic has been sitting on YouTube since the end of May and nobody noticed. As you've probably surmised thanks to the presence of Lou Diamond Phillips and some awful drone special effects, this one is going straight to video. To be fair, it doesn't look any worse than the original movie, though it does seem to have lost some of the edge that movies like this used to have in the 1990s.
But let's be honest, we can't get a good idea of what this movie will be like without seeing more of it, right? Well, how about you watch nearly 10 minutes of this cinematic treasure and see what you're in store for:
Honestly, it's not nearly as bad as I thought it would be, but it still looks pretty terrible. The only redeeming factor in this one is that Lulu Wilson is playing the annoying wannabe cop kid role quite well. Her mannerisms and performance feels more akin to something you might see on The Disney Channel, but that's to be expected when the director is Jonathan A. Rosenbaum, who has been at the helm of children's programming like K.C. Undercover. Even so, Lulu Wilson seems every bit as entertaining as Norman D. Golden II was in the original Cop and a Half.
Cop and a Half: New Recruit is just one more in the long line of straight-to-video sequels that we've seen hit shelves over the years. Hell, just last year we got a sequel to the other popular, family friendly police comedy from the 1990s, Kindergarten Cop. Dolph Lundgren took the lead instead of Arnold Schwarzenegger, and it was just as magical as you'd expect.
If you're wondering if people are even watching movies like this, the answer is surprisingly yes. Grant land (R.I.P.) wrote a fascinating piece not too long ago on the industry of straight to video sequels, which usually follow a philosophy of brand name first, story second. That would explain why they're not so good, but still land with the fanbase for which they are intended.
Before we go, we'll leave you with the trailer for the original Cop and a Half, which was directed by Henry Winkler:
Grizzled veteran detective Mark Simmons (Lou Diamond Phillips) can't seem to catch the "Badge Bandit" – the city's serial prankster who's causing mischief and embarrassing the police. Karina Foley (Lulu Wilson) is a spunky 12-year-old who dreams of being a cop. She stumbles on Simmons' stakeout where she proves she's got serious detective skills and tech-savvy smarts. While Simmons wants to ignore Karina, the police captain does the unthinkable and teams them up. While on their mission to stop the "Badge Bandit," the unlikely duo goes on a hilarious, action-filled adventure!
Cop and a Half: New Recruit will be released next week on August 1, 2017.