Warner Bros. Reportedly Planning Massive 'Wonder Woman' Oscar Campaign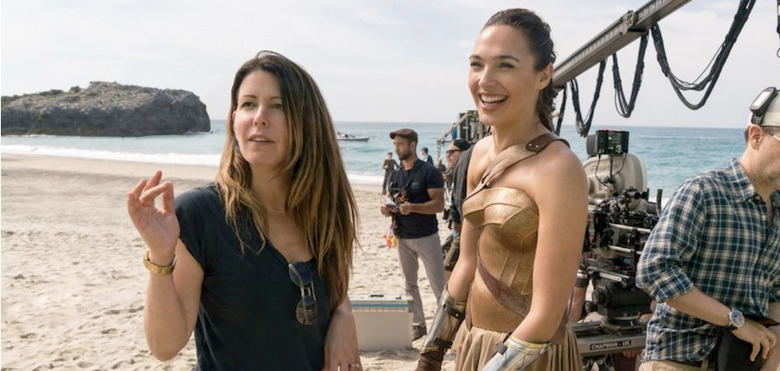 Wonder Woman has made leaps and bounds at the box office and with the critics, but the Patty Jenkins-helmed superhero movie is looking to make the leap over yet another Hollywood establishment: the Academy Awards.
Warner Bros. is reportedly planning to launch a "groundbreaking" Oscar campaign for the female-led superhero movie for both the Best Picture and Best Director categories. If the studio succeeds, it would make Wonder Woman the first comic book movie ever nominated for Best Picture, and Jenkins the first woman to be nominated for Best Director since Kathryn Bigelow became the first female director to win for The Hurt Locker in 2010.
Wonder Woman has broken box office records, amassing nearly $781 million worldwide, and still going. It's also gained the love from critics and audiences alike, causing Warner Bros. to embark on an extreme creative pivot in the direction of their DC Extended Universe.
Now the studio is placing even more expectations on the DCEU's first female-led superhero movie, reportedly "launching a formidable awards-season campaign for the movie," according to Variety.
The studio hopes to make Wonder Woman the first comic book movie to be nominated for Best Picture after the Academy stubbornly avoided the genre since The Dark Knight was snubbed in 2008. Warner Bros. will also go to battle for a Best Director nod for Jenkins, which Variety noted would be "groundbreaking." No director, including Christopher Nolan, has ever been nominated for a comic book movie and only four women in history have ever been nominated for the category.
No numbers have been confirmed for how much Warner Bros. is planning to spend on the Wonder Woman Oscar campaign, but it's likely to be costly. "Big dollars are spent on taking out advertising, making watermarked DVDs, setting screenings, and paying for talent to travel to both coasts, to remind voters how hard they suffered for their craft," Variety reports.
Scoff as much as you like — or rage that Logan deserves just as much Oscar love — but an Oscar nod for Wonder Woman is totally possible. And it would be a great capper for a surprise hit that Warner Bros. was initially so unsure about — karmic retribution against all the naysayers, you might say.
I think that Wonder Woman deserves, and could get, an Oscar nomination. The Academy Awards have started to soften in regards to genre films — just look at all the accolades that Mad Max Fury Road deservedly got at the 2016 Oscars. And with the Academy expanding its roster to young, diverse members — including Wonder Woman star Gal Gadot herself — there will definitely be more love toward genre and sci-fi films. Now, about that getting Andy Serkis that Best Actor nomination...