Cartoon Voice Legend June Foray Has Died At 99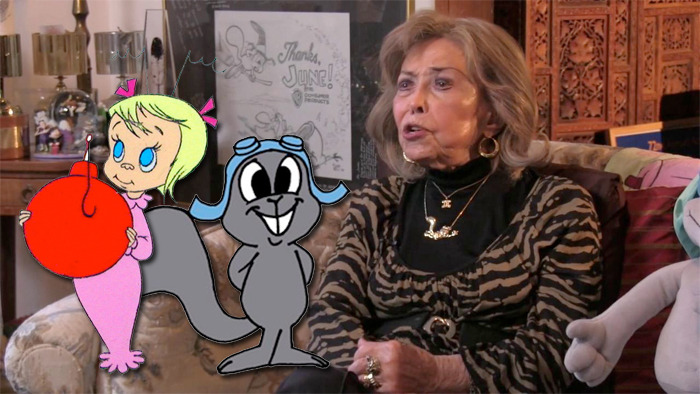 While you may not know the name June Foray, you undoubtedly know the voice that belongs to the legendary cartoon actress. Unfortunately, the woman behind iconic cartoon characters such as Rocky the Flying Squirrel from Rocky & Bullwinkle and little Cindy Lou Who in the Chuck Jones adaptation of How the Grinch Stole Christmas, has passed away at 99 years old.
Join us as we remember the life and career of June Foray.
Close friend Dave Nimitz confirmed news of June Foray dead with a post on Facebook saying, "With a heavy heart again I want to let you all know that we lost our little June today at 99 years old she is resting peacefully now with her beloved sister Geri and Sam her brother-in-law." Foray and the aforementioned family members all passed away within the past month and a half.
As we said, Foray's face wasn't recognizable except to those who were avid fans of voiceover work, or maybe to anyone who saw the fascinating documentary I Know That Voice, in which Foray can be seen above. But Foray's voice was lent to dozens of characters, including the lovable Granny from Sylvester and Tweety shorts from Looney Tunes, as well as Witch Hazel. Foray also gave a voice to Nell from Dudley Do-Right, the dastardly Natasha from Rocky & Bullwinkle, Mother Magoo on Mister Magoo, Ma Beagle on DuckTales, and Aunt May on Spider-Man and His Amazing Friends.
Outside of providing her voice to a variety of cartoon characters, June Foray also has another legacy in giving animation the respect it deserves. Jerry Beck, president of ASIFA-Hollywood, the International Animated Film Society which Foray helped create, gave this statement to Variety mourning the loss of Foray:
"On behalf of ASIFA-Hollywood, of which June was a founder, we are mourning the passing of animation's best friend. She has touched so many lives: with her voice that of so many classic cartoon character, her efforts to create ASIFA, to maintain the Academy's Oscar for Best Animated Short and her leadership in crafting the category of Best Animated Feature. She was one of a kind. A trailblazer, a great talent and a truly wonderful person. We will never forget her."
Foray was such an instrumental part to creating a Best Animated Feature category at the Academy Awards that after Shrek became the first film to win the Oscar, producer Jeffrey Katzenberg called her to offer his thanks for all her efforts in creating the award. The actress also came up with another way of honoring animation by creating the Annie Awards.
Though Foray was adamant about giving awards to the people who deserved them, she had to wait until 2012 to receive an Emmy for her voice talents. She won a Daytime Emmy for her performance as Mrs. Cauldron on Cartoon Network's The Garfield Show. But Foray doesn't need awards for us to know what an icon she was in show business. If you'd like to know more about Foray, you should seek out the documentary The One and Only June Foray from 2013. Foray's work inspired countless vocal talents working today and her legacy will live on, immortalized in animation for years to come.