'Suburbicon' Trailer: What If Pleasantville Was Invaded By Murder And Mobsters?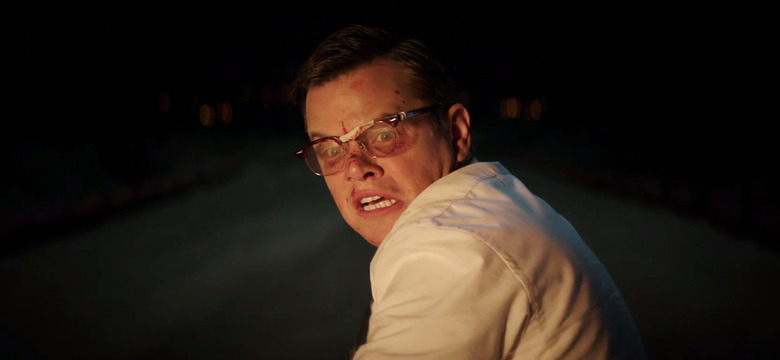 Directing duo Joel & Ethan Coen love bringing a little dark comedy to the big screen, and that's exactly what they're going to get with Suburbicon.
The directors behind No Country for Old Men and The Big Lebowski aren't behind the camera this time, but instead, they've let their former leading man George Clooney take over the directing duties for a script they wrote. The result appears to be a twisted comedy of murder in the suburbs with a promising blend of quirky laughter and brutal violence.
Watch the Suburbicon trailer below to see what we're talking about.
It's like the world of Pleasantville was suddenly invaded by criminals. Part of me wonders if there was a time in the 1950s or 1960s when the suburbs really felt like the kind of place where nothing could go wrong until someone got in league with the wrong people, bringing crime and violence to the front yards. But I grew up in the 1980s, so I really couldn't tell you. In either case, it's an amusing juxtaposition.
The last time George Clooney was behind the camera, it was for The Monuments Men, a film that never really figured out how to create a meaningful war movie while mixing it up with a bit of comedy. It wasn't a bad movie, but it felt like a missed opportunity for a unique, true story. But here, it seems like Clooney has struck a fine balance in the contrast between picturesque suburban life and senseless violence, and we probably have a script from the Coen Brothers to thank for that.
It's nice to see Matt Damon in screwball mode again, something we haven't seen the actor tackle since The Informant in 2009. Speaking of which, in addition to having a Coen Brothers sensibility, there are flairs of Steven Soderbergh here too, which isn't surprising since Clooney has worked with the director plenty of times throughout his career.
The film also stars Julianne Moore and Oscar Isaac with a fantastic mustache.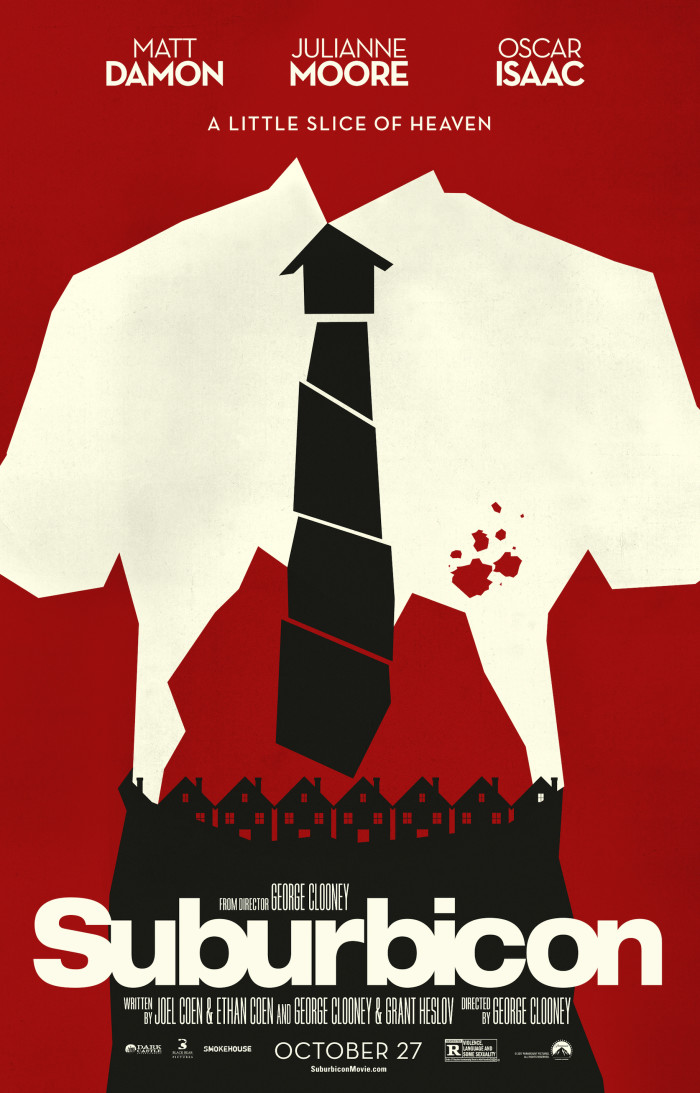 Suburbicon is a peaceful, idyllic suburban community with affordable homes and manicured lawns...the perfect place to raise a family, and in the summer of 1959, the Lodge family is doing just that. But the tranquil surface masks a disturbing reality, as husband and father Gardner Lodge (Matt Damon) must navigate the town's dark underbelly of betrayal, deceit, and violence. This is a tale of very flawed people making very bad choices. This is Suburbicon.
Head to Suburbicon in theaters on October 27, 2017.