'Detroit' Final Trailer: A Pulse-Pounding Portrait Of 'What Really Happened'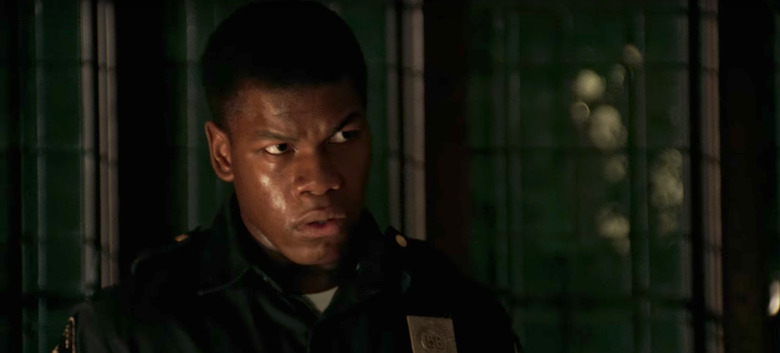 Detroit has released a gripping and provocative final trailer in anticipation of its August release.
The Kathryn Bigelow-directed movie delves into the events surrounding the Algiers Motel, in which three black men and two white women were killed during a police raid, with nine other people brutally beaten. The Detroit final trailer offers to reveal "what really happened" during the 1967 Detroit race riots.
In its most heart-pounding trailer yet, Detroit delves into the charged atmosphere around the biggest riots in U.S. history, which left 43 people dead, nearly 1,200 injured, and more than 2,000 buildings destroyed over the course of five days.
But Bigelow's film, penned by frequent collaborator Mark Boal, hones in on one particular incident during the riots, in which the Detroit Police Department, the Michigan State Police, and the Michigan Army National Guard raid a motel where gunshots were heard. The situation devolves into chaos, with the police beating and killing several people at the motel, and the pinning the blame on the black security guard who accompanied them, played by John Boyega.
The film takes place during and after the events, in which Boyega's security guard, Melvin Dismukes, is interrogated about the crime, and the other officers deflect the blame. But an added level of intrigue is introduced in this trailer, with Will Poulter's unhinged police officer confronting Anthony Mackie's injured character Greene, whispering to him menacingly, "I know exactly who you are."
Here's the short-and-sweet official synopsis for Detroit:
"From the Academy Award winning director of THE HURT LOCKER and ZERO DARK THIRTY, DETROIT tells the gripping story of one of the darkest moments during the civil unrest that rocked Detroit in the summer of '67."
The real riots that inspired the film began on July 23, 1967 after the police raided an unlicensed bar in Detroit's Near West Side. But escalating violence forced the governor to call in the National Guard, and eventually compelled president Lyndon Johnson to also send in the 82nd and 101st Airborne Divisions. The riots lasted five days and rocked the nation, changing the conversation on race and crime.
Detroit features a star-studded cast including John Boyega, Will Poulter, Algee Smith, Jacob Latimore, Jason Mitchell, Hannah Murray, Kaitlyn Dever, Jack Reynor, Ben O'Toole, Joseph David Jones, Ephraim Sykes, Leon Thomas III, Nathan Davis Jr., Peyton Alex Smith, Malcolm David Kelley, Gbenga Akinnabve, Chris Chalk, Jeremy Strong, Laz Alonzo, Austin Hebert, Miguel Pimentel, Kris Davis, John Krasinski, and Anthony Mackie.Detroit hits theaters August 4, 2017.