Stephen King's 'It' Trailer: Pennywise The Dancing Clown Haunts Sewers And Hunts Children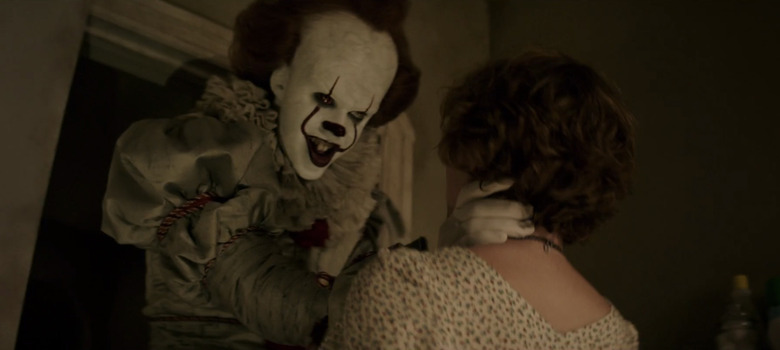 Halloween may still be three months away, but Warner Bros. Pictures and New Line Cinema will be bringing terror to the big screen well in advance of the spooky holiday.
A new adaptation of Stephen King's classic, beloved horror novel It is coming to theaters in September, but today we have a new trailer that gives us quite a big dose of horror in the form of Pennywise the Dancing Clown.
Watch the new Stephen King's It trailer below and try not to run away in the middle of it.
We finally get to hear Pennywise speak for the first time, and his higher-pitched voice is certainly unsettling as he lures young Georgie Denbrough to take the paper sailboat from his hand, with far more sinister intentions than just being a helpful sewer-dwelling clown.
That's just one of the incidents that will terrify audiences as Pennywise stalks the misfits known as the Losers' Club in the small town of Derry, Maine. The clown pops up unexpectedly, dwells in a flooded basement, hides among other creepy clown statues and figures and more. The movie also hints at the long history of misfortunes that Derry, Maine has endured, and one of the kids explains that his grandfather believes it's because of a curse put on the town tied to something disturbing in the town's history.
This adaptation of Stephen King's It stars Bill Skarsgård (Allegiant) as the horrifying Pennywise the Dancing Clown while the group of young misfits known as the Losers' Club is played by Jaeden Lieberher, Finn Wolfhard, Wyatt Olef, Jeremy Ray Taylor, Chosen Jacobs and Sophia Lillis.
Mama director Andy Muschietti is at the helm of the feature produced by Roy Lee, Dan Lin, Seth Grahame-Smith, David Katzenberg and Barbara Muschietti with a screenplay from Chase Palmer & Cary Fukunaga and Gary Dauberman.
If you want to see more from the movie, watch the first It trailer right here, and be sure to check out our reaction to some extended clips that were shown at San Diego Comic-Con.
New Line Cinema's horror thriller "IT," is based on the hugely popular Stephen King novel of the same name, which has been terrifying readers for decades.
When children begin to disappear in the town of Derry, Maine, a group of young kids are faced with their biggest fears when they square off against an evil clown named Pennywise, whose history of murder and violence dates back for centuries.
It is coming for you in theaters on September 8, 2017.