TV Trailer Round-Up: Rocko's Modern Life, Hey Arnold, Doctor Who, Future Man, The Orville & More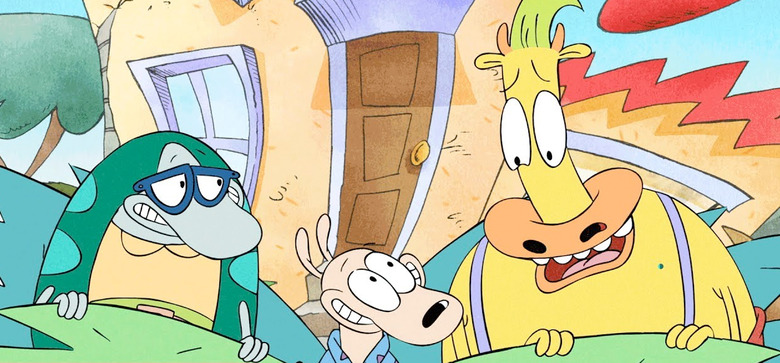 We're still recovering from the insanity that is San Diego Comic-Con. Because there are so many movies and TV shows that get promoted at the massive pop culture convention, we simply don't have the time to report on each and every one of them by attending all the panels that unfolded. But we still wanted to highlight some of the big shows with new footage to show off for fans.
So we've rounded up a slew of new trailers for upcoming TV shows, both returning and new programs, ranging from revivals of Nicktoons like Rocko's Modern Life and Hey Arnold! to freshman shows like The Orville and Future Man, returning shows like Once Upon a Time and Doctor Who, and plenty more Comic-Con TV trailers from the 2017 convention.
Without further adieu, let's dig into a bunch of 2017 Comic-Con TV trailers.
Riverdale Season 2
First up, Riverdale, a surprise hit of sorts, is coming back to The CW this fall. The adaptation of the Archie comics puts a much different spin on the familiar characters from classic comic books, putting them in the middle of an intriguing murder mystery. The series had its own panel at Comic-Con where they played some bloopers from the first season, followed by a tease of what to expect from the second season.
As a new school year begins, the town of Riverdale is reeling from the recent, tragic death of high school golden boy Jason Blossom — and nothing feels the same. Archie Andrews (KJ Apa) is still the all-American teen, but the summer's events made him realize that he wants to pursue a career in music and not follow in his dad's footsteps despite the sudden end of his forbidden relationship with Riverdale's young music teacher, Ms. Grundy (Sarah Habel). Now Archie has no one to mentor him, certainly not singer Josie McCoy (Ashleigh Murray), who is only focused on her band, the soon-to-be-world-famous Pussycats. It's all weighing heavily on Archie's mind — as is his fractured friendship with budding writer and fellow classmate Jughead Jones (Cole Sprouse).
Riverdale season 2 premieres October 11th at 8pm ET/7pm CT.
Doctor Who Christmas Special 2017
Before the the first female iteration of Doctor Who arrives in the form of Jodie Whittaker, the 13th regeneration of the title character that everyone needs to get used to fast, there will be yet another Christmas special featuring the twelfth Doctor played by Peter Capaldi. A teaser for the new special debuted at Comic-Con last weekend, and you can watch it above.
The Twelfth Doctor comes face to face with his past in his final adventure, Twice Upon A Time. Starring Peter Capaldi, David Bradley, Mark Gatiss and Pearl Mackie.
Twice Upon a Time will arrive in time for Christmas later this year.
Seth MacFarlane's The Orville
Before the premieres on FOX this fall, the network debuted a new promo at Comic-Con teasing the comedy series inspired by Star Trek and starring Family Guy creator Seth MacFarlane and Agents of SHIELD supporting actress Adrianne Palicki.
From Emmy Award-winning executive producer and creator Seth MacFarlane (Family Guy, Ted) and directed by Jon Favreau (The Jungle Book, Iron Man), The Orville is a one-hour science fiction series set 400 years in the future that follows the adventures of the U.S.S. Orville, a mid-level exploratory vessel. Its crew, both human and alien, faces the wonders and dangers of outer space, while also dealing with the familiar, often humorous problems of regular people in a workplace...even though some of those people are from other planets, and the workplace is a faster-than-light spaceship.
In the 25th century, Earth is part of the Planetary Union, a far-reaching, advanced and mostly peaceful civilization with a fleet of 3,000 ships. Down on his luck after a bitter divorce, Planetary Union officer Ed Mercer (Seth MacFarlane) finally gets his chance to command one of these ships: the U.S.S. Orville. Determined to prove his worth and write a new chapter in his life, Ed finds that task all the more difficult when the First Officer assigned to his ship is his ex-wife, Kelly Grayson (Adrianne Palicki of Agents of SHIELD, Friday Night Lights).
Somehow, Ed and Kelly must put the past behind them and, with the help of the crew, navigate fascinating and sometimes dangerous adventures in outer space, as well as the tumultuous and captivating day-to-day personal relationships with their colleagues.
The Orville premieres on FOX on September 10.
SyFy's Ghost Wars
If you been thinking that your TV shows need a little more Vincent D'Onofrio and Meat Loaf, then SyFy has the show for you, and it's called Ghost Wars. Avan Jogia, Kim Coates and Kandyse McClure also star in the series which is described by series creator Simon Barry (Continuum) as "not just a contemporary homage to classic psychological horror, it's also an opportunity to tell stories about human politics and how we shape our beliefs and lives based on our individual perspectives and biases."
Set in a remote Alaskan town that has been overrun by paranormal forces, the series focuses on local outcast Roman Mercer who must overcome the town's prejudices and his own personal demons if he's to harness his repressed psychic powers and save everyone from the mass haunting that's threatening to destroy them all.
Ghost Wars comes to SyFy sometime later this year.
SyFy's Happy!
SyFy isn't just bringing a new paranormal drama to the table this season, but they're also delving into dark comedy as well. In Happy!, an adaptation of Grant Morrison and Darick Robertson's graphic novel of the same name, Christopher Meloni plays an ex-cop turned hitman who suddenly is partnered with an imaginary blue winged horse named Happy, who only he can see. That horse just happens to be voiced by Patton Oswalt. We only get a sneak peek of how this show is going to work, but it looks promising.
Happy! is based on New York Times best-selling author Grant Morrison and Darick Robertson's graphic novel of the same name. The series follows Nick Sax (Christopher Meloni, Law & Order: SVU) – an intoxicated, corrupt ex-cop turned hit man – who is adrift in a world of casual murder, soulless sex and betrayal. After a hit gone wrong, his inebriated life is forever changed by a tiny, relentlessly positive, imaginary blue winged horse named Happy (Patton Oswalt).
Happy! comes to SyFy sometime later this year.
Hulu's Future Man
Are you ready for a series from Seth Rogen that features The Hunger Games franchise co-star Josh Hutcherson as a time traveling janitor trying not to fuck up the future? Of course you are! Well, Hulu is hoping you are anyway, and they dropped this teaser at Comic-Con for the show that comes to the streaming service in November.
From executive producers Seth Rogen (Sausage Party, Knocked Up, This is the End) and Evan Goldberg (Preacher, Sausage Party, Superbad, Knocked Up), Future Man follows a janitor by day/world-ranked gamer by night who travels through time to prevent the extinction of humanity after mysterious visitors from the future proclaim him the key to defeating the imminent super-race invasion. Josh Hutcherson (The Hunger Games, The Kids Are Alright) stars as Josh Futterman, an uninspired and dejected gamer who quickly becomes earth's unlikely hero. Eliza Coupe (Happy Endings), Derek Wilson (Preacher), Ed Begley Jr. (St. Elsewhere) and Glenne Headly (Don Jon) also star.
All episodes of Future Man arrive on Hulu on November 14.
Outlander Season 3
Speaking of time travel, the popular series Outlander returns to Starz this fall with an all-new season. The season premiere debuted to surprised fans at Comic-Con, but for everyone else, this trailer that takes Claire (Caitriona Balfe) to 1948 will have to do for now.
In Season Three of "Outlander," the story picks up right after Claire travels through the stones to return to her life in 1948. Now pregnant, she struggles with the fallout of her sudden reappearance and its effect on her marriage to her first husband, Frank. Meanwhile, in the 18th century, Jamie suffers from the aftermath of his doomed last stand at the historic battle of Culloden, as well as the loss of Claire. As the years pass, Jamie and Claire attempt to make a life apart from one another, each haunted by the memory of their lost love. The budding possibility that Claire can return to Jamie in the past breathes new hope into Claire's heart... as well as new doubt. Separated by continents and centuries, Claire and Jamie must find their way back to each other. As always, adversity, mystery, and adventure await them on the path to reunion. And the question remains: when they find each other, will they be the same people who parted at the standing stones, all those years ago?
Outlander returns to Starz on Sunday, September 10th at 8pm ET/7pm CT.
Nickelodeon's Rocko's Modern Life: Static Cling
After being gone for over 20 years, the wallaby Rocko and his friends return back to Earth and have to figure out how to live in the contemporary world that they're not too familiar with anymore. All the original voice cast members are back to reprise their roles from the favorite cartoon of children of the '90s, but will they turn up for this revival?
Rocko's Modern Life: Static Cling brings the characters back to Earth after being lost in outer space since 1996. Rocko has trouble accepting this 21st century modern life, while Heffer and Filburt embrace every aspect of new technology, social media and the endless diversity of food trucks. Rocko whole-heartedly believes that his nostalgia for the past can save him from the tortures of the modern world.
Rocko's Modern Life: Static Cling is coming to Nickelodeon sometime in 2018.
Hey Arnold!: The Jungle Movie
Another journey down nostalgia lane is coming in the form of a Hey Arnold! TV movie that takes the kids on a new adventure that picks up where the original series left off in 2004 and aims to answer some questions that Arnold never resolved before the show ended.
Unlike Rocko's Modern Life, not all the voice cast from the original series is back with Mason Vale Cotton voicing Arnold and Benjamin "Lil' P-Nut" Flores, Jr. voicing his best friend Gerald. But there are plenty of returning voices including Justin Shenkarow (Recess) as Harold; Olivia Hack (Family Guy) as Rhonda; Nika Futterman (The Boxtrolls) as Olga; Dan Butler (Frasier) as Mr. Simmons; Dan Castellaneta (The Simpsons) as Grandpa; Tress MacNeille (The Simpsons) as Grandma; Antoinette Stella (Melrose Place, writer) as Stella; Carlos Alazraqui (Happy Feet) as Eduardo; Dom Irrera (Back at the Barnyard) as Ernie; Maurice LaMarche (Futurama) as Bob Pataki; Kath Soucie (Rugrats) as Miriam; Danielle Judovits (Toy Story) as Big Patty; Danny Cooksey (The Lorax) as Stoop Kid; Jim Belushi (According to Jim) as Coach Wittenberg; and Craig Bartlett as Miles.
Hey Arnold!: The Jungle Movie is an action-packed TV movie that takes kids on the field trip of a lifetime, following Arnold and his friends on a quest to achieve his ultimate dream of finding his missing parents. The two-hour TV movie features a storyline that picks up from where the original series ended in 2004 and resolves unanswered questions and plotlines-including Arnold finally getting answers about the whereabouts of his missing parents. The movie is co-written and executive produced by the series' original creator Craig Bartlett and produced by Nickelodeon in Burbank, Calif.
Hey Arnold!: The Jungle Movie arrives on Nickelodeon on November 23rd.
Vikings Season 5
The new season of Vikings is coming to History this fall, and there will be a new cast member joining the mix. Jonathan Rhys Meyers (The Tudors) joins the cast in season five as Bishop Heahmund along with series regulars Katheryn Winnick (Lagertha), Gustaf Skarsgard (Floki), Alexander Ludwig (Bjorn) and Alex Hogh Andersen (Ivar the Boneless).
Season five begins with Ivar the Boneless asserting his leadership over the Great Heathen Army, while Lagertha reigns as Queen of Kattegat. Ivar's murder of his brother Sigurd sets the stage for vicious battles to come as Ragnar's sons plot their next moves after avenging their father's death. Bjorn follows his destiny into the Mediterranean Sea and Floki who is suffering from the loss of his wife Helga, takes to the seas submitting himself to the will of the Gods. This season is full of startling alliances and unbelievable betrayals as the Vikings fight to rule the world.
Vikings is the critically acclaimed series from creator and sole writer Michael Hirst (Academy Award-winning film Elizabeth and the Emmy and Golden Globe-nominated series The Tudors) and is a family saga that tells the remarkable tales of the lives and epic adventures of the raiders and explorers of the Dark Ages.
Vikings returns to History on Wednesday, November 29th at 9pm ET/8pm CT.
Once Upon a Time Season 7
When the ABC fantasy fairytale series returns for a seventh season, it's getting a bit of a makeover. As the network touts, they're opening a new book, and will shake up the foundation of the series by moving away from the setting of Storybrooke and trying something a little different. Get a taste of what that means in the trailer above.
Robot Chicken Season 9
Believe it or not, Robot Chicken is still alive and kicking over at Adult Swim, and their upcoming ninth season keeps the pop culture skewering, stop-motion sketch comedy show going strong with parodies of Mad Max: Fury Road, Westworld, Pokemon, and of course more Star Wars.
Robot Chicken season nine arrives sometime later this year.
***
That's all for the TV trailer catch-up from Comic-Con! Stay tuned for coverage on some of these shows and more soon.