The Losers' Club: Tales From The Young Cast Of 'It'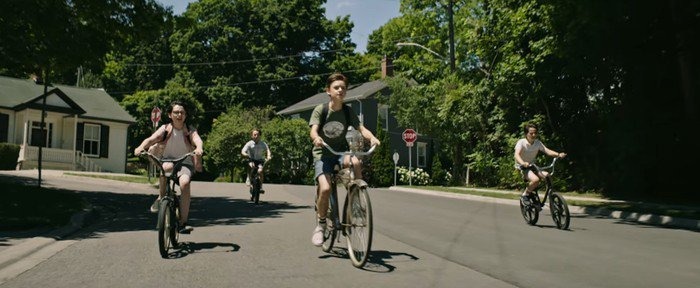 Some kids spend the summer playing video games. Others go to camp. But for the young cast of It, the summer of 2016 was spent battling an evil entity that takes on the form of a clown so it can prey on the children of Derry, Maine.
And just about all of them called it the best summer of their lives.
When we visited the set of director Andy Muschietti's adaptation of Stephen King's classic horror novel last year, we were able to meet the entire "Losers' Club," the ensemble of young misfits and dorks who come together to battle Pennywise the Dancing Clown and its various other hideous guises. As you'd expect from seven young kids working on a horror movie set, they had stories to share...and no filter to keep them from being interesting.
A New Decade
Although the original novel was set in the 1950s (with "modern" sequences set in the '80s), the new version of It moves the action to 1989, which meant that this ensemble of 21st-century kids had to receive an education in what it was like to live in the pre-internet age. Producer Barbara Muschietti told us that the kids were gathered weeks in advance for rehearsal and a crash course in being an '80s kid:
I don't know what this generation of kids is called, but they are indoors with video games a lot, with TV and computers, and we wanted them out with bicycles and swimming in quarries and just doing kid things from the '80s. So we gave them training in that, because some of them were not particularly great at bicycle riding.
Wyatt Oleff (Stanley Uris) turned to his parents for guidance. "My mom and dad definitely helped," he said, telling us that he's been listening to '80s music non-stop throughout he shoot. "That's helped me get into character."
The wardrobe also came as a culture shock for man of the kids. Chosen Jacobs (Mike Hanlon) joked that he's the only one in the cast who gets to wear real pants. "Everyone else is wearing these high high high, high high high, high shorts!" he joked, "It's crazy. You guys are going to be like 'Man, these kids are wearing some high shorts.'"
Jack Dylan Grazer (Eddie Kaspbrak) has seemingly come to terms with his character's clothing: "We're like wearing booty shorts."
Best Summer Ever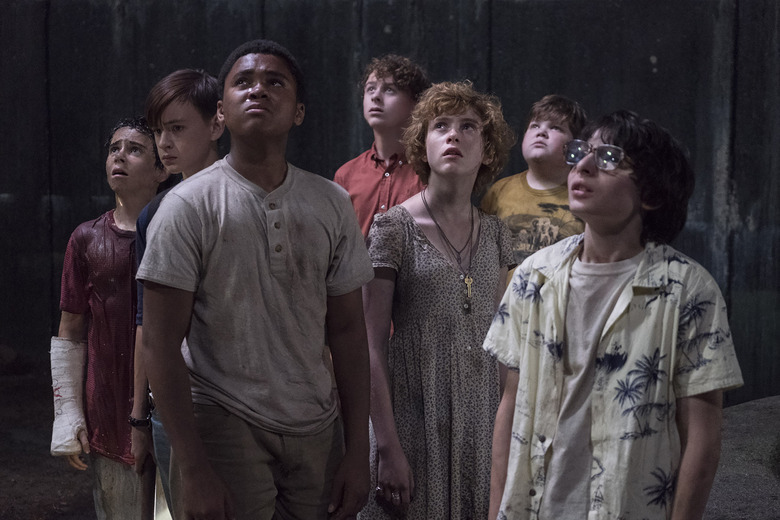 The decision to bring the kids together early for rehearsal, bonding time and "trust exercises" seems to have paid off. By day three, all of the kids were fast friends and assembled for a group sleepover. "We were like, 'Everybody want to sleep over at this guy's house?'" Jeremy Ray Taylor (Ben Hanscom) recalled, "We were really good friends."
Those early friendships were born via various acting exercises, which Jacobs recalls with fondness:
Before we got to shooting, we knew each other's names, favorite colors and so on and so forth. I think it just made the set and our acting even more compatible because we weren't just acting with strangers. We knew each other's weaknesses and each other's strengths. It was cool.
The offscreen friendships quickly began to influence the onscreen friendships. Grazer recalled a scene where they were able to draw on their genuine feelings for one another for an especially emotional scene:
Before we started shooting, we did an exercise where we walked in on each other all dead and pretending it was real like our friends were dead. And now, it's really come into play because we're best friends. We're lifelong friends now in reality and in the movie. We're shooting a scene now where Stanley or Wyatt is breaking down and we're all huddling around him crying and it's an amazing powerful scene. It's real. We all burst out crying. Because of the friendships, it's real.
But even as it got emotional, the kids seem to agree that the whole experience has just been a blast. "This has been one of the best summers of my life, probably the best because I just made so many close friends and it's been awesome filming a movie as well," Oleff said. Taylor agreed: "It's definitely, by far, been the best summer of my life." As did Jacobs: "I feel like with this film, this has been my favorite summer ever. The best summer of my life. It's crazy."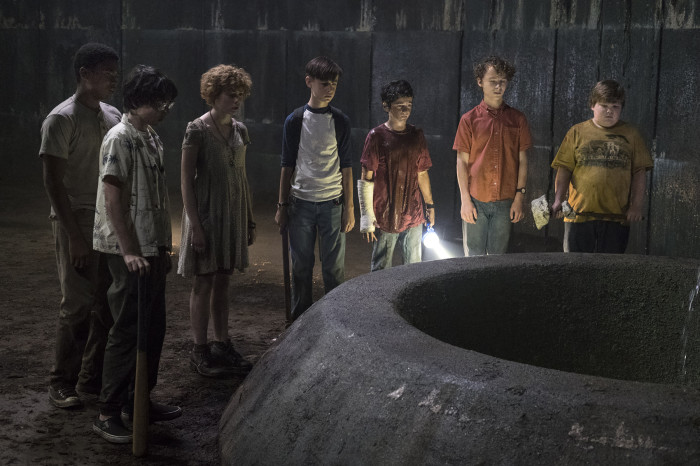 Meeting Pennywise
But what do the kids think of Bill Skarsgård, the actor behind the Pennywise make-up, the man playing the monster hunting them and terrorizing the children of Derry, Maine and feeding on their fear?
"He's a total sweetheart," Grazer says, "When he was supposed to push me against the cabinet, he was like 'Can we have a pillow for Jack? I don't want to hit his head.'"
When we visited the set, the kids had only recently begun their work with Skarsgård. The production had deliberately kept them separate for much of the production, delaying their first meeting to increase the tension.
"The first time we saw him was during a scene, Taylor says, "They didn't show us him at all until we were in a take."
Still, the mystique wore off quickly. Jacobs tells the story of watching Pennywise the Clown quickly transform back into Bill Skarsgård the Actor when the camera stops rolling:
It was really funny because they're doing this scene, doing it, doing it, choking, spitting, all this craziness to Jack. Then afterward he was like "Andy it's really hot in here, I can't see." It's funny because you see him as really scary and it just hits you in the wrong way and then afterward he's just really chill and walks around with his makeup on like, "Hey guys how you doing?"
Grazer described Skarsgård's process for getting into character before a new scene: "Before you even start the take, he does his clown laugh and runs around. It gets you there before you even start the scene."
"Bill is just an absolutely amazing actor and that just makes everything ten times worse," Taylor says, "In a good way!"
Meanwhile, Skarsgård has nothing but praise for his young co-stars, especially after realizing that they were pint-sized professionals:
The first day of shooting, I'm working with this actor, Jack Grazer, who plays Eddie in the film. It's a very intense physical scene where I'm an evil clown and I'm really going after it, you know? Those scenes can sometimes be pretty intense. I think the scene itself was kind of intense for Jack. It's physical and it's kind of a lot. After the first take, I tried to make sure he was okay. And he was really excited. He was like "Yeah, that was great, man! That was amazing! I love what you're doing with the character!" And he was really excited about it and I was like okay, I'm not actually dealing with young kids here. These are little actors! That was really fun. It was fun working with them. I tried to bring out the best in them as we were shooting.
The exception was the 7-year-old actor who plays Georgie, the first of Pennywise's victims in the story. Skarsgård recalls him being "noticeably affected by the sight of [him] in the storm drain" but promises that they're "good friends in real life!"
Slime and Spit and Gore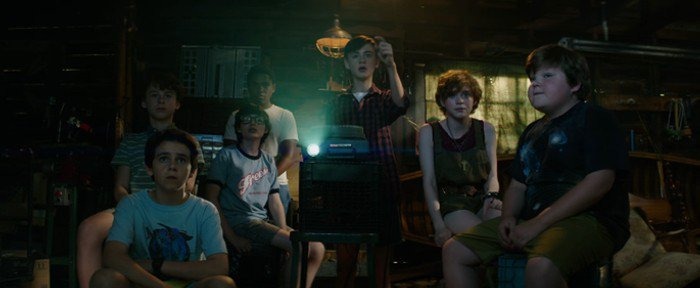 One thing we quickly learned on set is that Bill Skarsgård's prosthetic teeth create an unnatural amount of saliva in his mouth. Rather than work around it, the production decided to embrace it. And as you'd expect, just about every member of the Losers' Club had thoughts on this.
Grazer was the first of the kids to encounter the drooling Pennywise:
The first time I ever saw him, that was a scene [where] he was up and close in my face and strangling me. I actually didn't really get the memo before that. Andy, the director is a lot about in the moment. He's like "Drool on him! Punch him!" I got a lot of drool on me. The drool is one of the most important parts.
Oleff explains that the product used to simulate Pennywise's drool is actually called "Slime" and it's imported from England. And it gets everywhere. "I had to hug him when he had the slime all over him and it got all in my hair," Taylor says, "It was great!"
But the ickiness goes beyond the slime and the spit. Finn Wolfhard (Richie Tozier) quickly adjusted to a summer where every day revolved around corpses and monsters:
It's super fun, It's just like...it's weird. It's very surreal thinking like I'm going to go into work today and there's going to be four dead bodies in the water and it's like "Oh, cool. This is my job and this is my life. Uh, cool."
Grazier promises that It isn't too violent ("It's not a Quentin Tarantino movie or anything"), but the gore is amazing. Jacobs agrees: "Everything is so real. Either it's a dead body, a monster's face, a broken arm. You don't have to act in this film. It's scary!"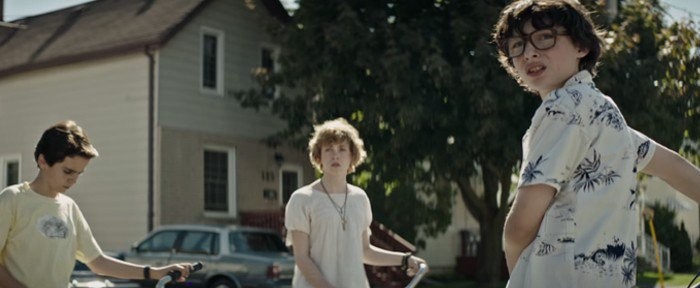 Getting Emotional
When we visited the set of It, there was about one week of filming left and the kids knew it. And they weren't happy about that.
"About a week ago we had a scene and they're all very upset and they're crying and we couldn't stop them," Barbara Muschietti says, "We couldn't stop them from the emotions, because they can feel this coming to an end and they're terrified. Because this film has changed their lives [...] They're growing up and they can feel this is the last remnants of childhood."
"It was like, 'Alright, we gotta do this scene' and the next thing you know we're all just bawling out," Taylor says, "Everybody's just crying. There was not a dry face." Oleff says that he was not expecting to have such an emotional reaction:
It was hard enough for that day because it was just a lot of flashlight shining and then we get to the end of the day and I'm bursting out in tears and I hadn't been expecting it, so it was just kind of a slap in the face.
He notes that they had to film several portions of the scene over several days, forcing him to cry three days in a row.
Wolfhard was also taken aback by the emotions he felt during this scene:
There was a scene where I had to cry, and I could not, physically, I could not stop crying. And so we're just really quiet and they're like "Okay, let's just roll." And so they rolled and it was like the most uncomfortable things I've ever had to do in my life.
But Oleff let us in on a little secret: Jaeden Lieberher (Bill Denbrough) was the only member of the group to not cry. "He doesn't have a soul," he joked.
When asked about this, Lieberher deadpanned: "No comment. I don't have a soul."
On a more serious note, Jacobs explained that the process of making the movie, of growing up over the summer, is mirrored in the movie itself:
Stephen King has a way of making horror relatable. Pennywise is fictitious and scary, but this story is really about all of our characters bonding. Without Pennywise, I wouldn't have met anybody. Nobody would have came together. Pennywise is just a symbol for all the hard things that happen in life that bring people together. Of course we changed. We became more mature. Some people break out of their shells, some people retract into themselves because it's scary. This horror film is more than just horror. It's a coming-of-age movie.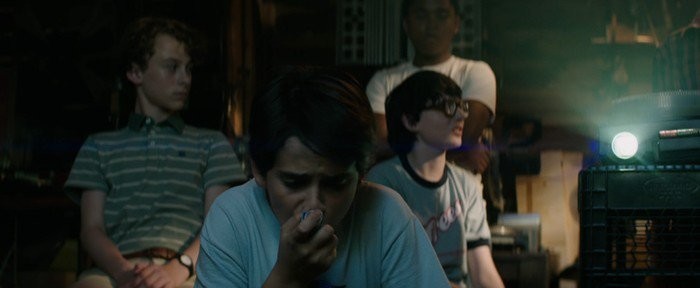 Growing Up
The kids are aware that It only adapts one-half of Stephen King's novel and that a potential sequel would take place nearly 30 years later, following the same characters as adults. And yes, they've all had conversations about who should play the older versions of them. Taylor, whose Ben Hanscom is a chubby kid, grows into a physically fit stud in the novel, so he thinks the natural choice to take over the role is Chris Pratt. "Yeah, I get all buff," he says.
And while Wyatt Oleff would like to see Tom Hiddleston play the older version of Stanley Uris, he knows what happens to the character and knows it's unlikely.
(SPOILERS for the early scenes of Stephen King's novel and the first scenes of a potential sequel.)
When the grown-up Losers' Club learn that "It" has returned, they all heed call and remember their childhood promise to reunite. Except Stanley, who chooses to slash his wrists rather than face the monster again. And while this is heavy subject matter for a kid, Oleff has given it a great deal of thought:
There's a really good connection by the end of the movie where I'm cut right here [on my hand]. It's really focused, though, more like right here [just above my wrist]... So it's kind of drawing that connection to what he does in the future. I've been told that I'm setting up the sequel, but I don't know how to respond to that. He's been scarred, I guess you can say. They're saying I've done that well. I don't know if that's a compliment or not, but Stanley is scarred mentally and physically,  so they should appear in the sequel. That's what I heard. If that's happening. They're permanent, so every time he would look in the mirror he'd see it and be reminded about what happened. Eventually when he hears that It's back, he can't take it.
Talk about a summer of growing up.
***
It opens on September 8, 2017.