See The Real Instagram Account Used In The Making Of Aubrey Plaza's 'Ingrid Goest West'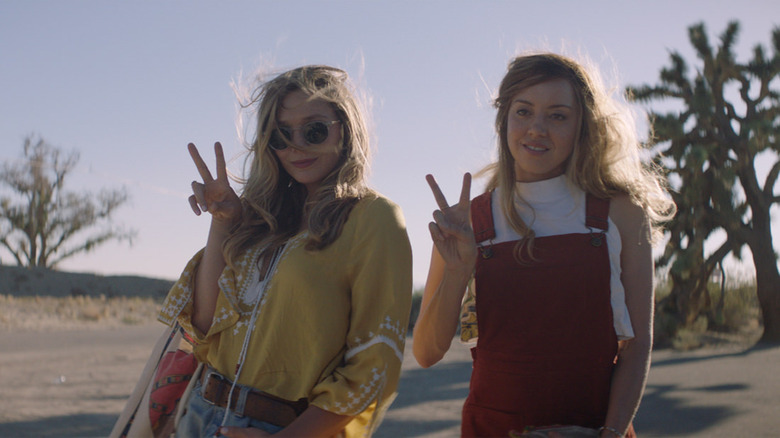 Characters talking on the phone or looking at a phone can be pretty boring in a movie. That's not the case with Matt Spicer's Ingrid Goes West, in which his deeply lonely protagonist, Ingrid Thorburn (Aubrey Plaza), spends a lot of her time and life on her iPhone. It's a great character who elicits empathy, laughs, shock, and some cringes.
Ingrid grows obsessed with an Insta-celeb, Taylor (Elizabeth Olsen), who she goes a long way to befriend. Some of the character's Instagram hashtag-heavy posts in the movie were shared during production on the social media app.
Ingrid Goes West would probably make for a great triple feature with The Cable Guy and Taxi Driver. Tonally, it's very different, but Ingrid's loneliness with all the dark laughs call those movies to mind. Ingrid wants the picture-perfect connections she only sees on Instagram. She attempts to befriend Taylor, who she stalks in real life and online. Entertainment Journalist Courtney Howard spotted an actual Instagram account for the character, which was sharing photos throughout the shooting of the dark comedy:
I love movie synergy so to find out they made a real Instagram account for @ingridgoeswest 's Taylor, well, I couldn't be happier. pic.twitter.com/r1wHHdZavj

— Courtney Howard (@Lulamaybelle) July 26, 2017
This shot is in the movie and is a part of what kicks off Ingrid's journey to LA:
Another day, another avocado toast ????
A post shared by Taylor Sloane (@_welltaylored_) on
 The avocado toast is from a real place in Los Angeles called Cafe Gratitude. According to our editor-in-chief Peter Sciretta, their dishes are called "I am grateful" and "I am hopeful." Only in LA.
Found my beach ???? A post shared by Ingrid Goes West (@ingridgoeswest) on
There's some really great, on point, and banal Instagram posts in the movie. There's a complete sense of authenticity to Ingrid Goes West. As ridiculous as some of the characters sometimes are, they're all completely believable, sometimes frighteningly so. Not everyone is faking it a lot of the time in Spicer's movie, like a character played by O'Shea Jackson Jr. He's fantastic in the movie. But it's Plaza who owns the film. With Ingrid Goest West and Legion, she's given two of my favorite performances of the year. Plaza makes Ingrid consistently empathetic, no matter the trouble she's cuasing.
Ingrid Thorburn (Aubrey Plaza) is an unhinged social media stalker with a history of confusing "likes" for meaningful relationships. Taylor Sloane (Elizabeth Olsen) is an Instagram-famous "influencer" whose perfectly curated, boho-chic lifestyle becomes Ingrid's latest obsession. When Ingrid moves to LA and manages to insinuate herself into the social media star's life, their relationship quickly goes from #BFF to #WTF. Built around a brilliantly disarming performance from Aubrey Plaza, Ingrid Goes West (winner of the Waldo Salt Screenwriting Award at Sundance) is a savagely hilarious dark comedy that satirizes the modern world of social media and proves that being #perfect isn't all it's cracked up to be.
Ingrid Goes West opens in theaters today.