'Mr. Mercedes': How The Stephen King Series Can Continue [TCA 2017]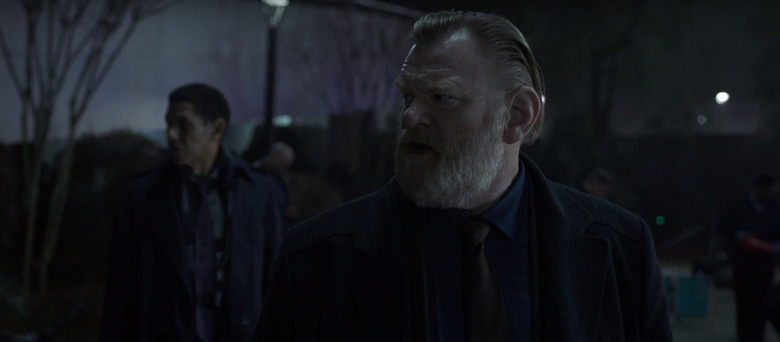 David E. Kelly and Lost director Jack Bender have adapted Stephen King's book Mr. Mercedes as a series for Audience Network. King has written three books featuring Bill Hodges, the retired detective played by Brendan Gleeson on Mr. Mercedes. Chris Long, Head of Audience Network, told the Television Critics Association he hopes to produce multiple seasons to cover subsequent books.
"Obviously we have to see how it performs, but that is the plan," Long said. "I think the plan is to go into the other two books."
Bender confirmed the first season is focused on the story of the book Mr. Mercedes. Hodges never solved the case of a killer who ran over people in line at a job fair with a stolen Mercedes. The killer comes back to taunt Hodges after retirement, and plans a new massacre. However, in the book Mr. Mercedes plans to bomb a boy band concert. Bender and Kelly decided to change his target, and this was well before a real-life Ariana Grande concert suffered an explosion in May of this year.
"We decided early on that we thought there was a better way to make it a potentially catastrophic event at the climax, but that it would be truer to the town coming back [together]," Bender said.
Kelly and Bender also added a new character to the story, Ida Silver (Holland Taylor). Silver is Hodges' neighbor who tries to socialize with him, even propositions him at one point. Given the book develops a relationship between Hodges and Janey Patterson (Mary-Louise Parker), the sister of the stolen car's owner, a new character in Hodges' life could complicate that. Gleeson says Silver is no threat to Patterson.
"All of these people are insisting to him in different ways that the abyss is not for him," Gleeson said. "Particularly Holland's character is insisting because she's seen her husband go into that dark place, insisting on knocking on his door and being a presence and shining a light on the world and dragging him back to a place where he can recognize himself. It comes down to one simple thing which is love. There are people insisting love is still within him and possible for him and he has no right to deny it, or go black."
Now, this is a Stephen King story. Not everyone gets a happy ending, but the journey makes sense. "By the time you get to episode 10, the show really earns that light that Brendan's talking about," Bender said. "You really understand these people have gone some distance together. Some make it to the finish line, some don't but you really feel that these people have meant something to each other."
King will cameo in an episode. Mr. Mercedes premieres August 9 on Audience, DirecTV channel 239 or the DirecTV NOW app.