'Wonder Woman 2' Will Be Flying Into Theaters In 2019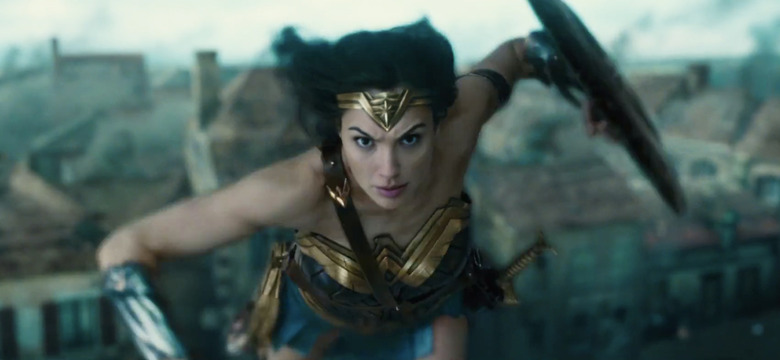 After much hemming and hawing, we finally have a Wonder Woman 2 release date. Get ready for Wonder Woman 2 to leap into theaters on December 13, 2019.
Gal Gadot is set to reprise her role as Diana of Themyscira in the sequel set to hit theaters two years after Wonder Woman broke box office records. However, despite director Patty Jenkins' success with the first film, Jenkins has not been confirmed to direct the sequel.
No director has been announced with the news of a 2019 release date for Wonder Woman 2, according to Deadline. While Jenkins has frequently spoken about her ideas for the sequel and is confirmed to be co-writing the script alongside DC Films co-head Geoff Johns, it's a little odd that her name still hasn't been nailed down for Wonder Woman 2.
Jenkins may still be in negotiations because of the unexpected success of Wonder Woman at the box office and with critics, which gives her more leverage. It's notable too that she broke records with Wonder Woman, as it was the highest-grossing live-action film directed by a woman. So it would not be wise for Warner Bros. to not keep her on for the sequel, especially since Wonder Woman and its earnest tone is central to the DC Films' pivot to make the future DC Comics movies "less dark."
Wonder Woman 2 is reportedly set in the '80s at the tail end of the Cold War. Chris Pine, who played World War I spy Steve Trevor and Diana's love interest is also reported to return in Wonder Woman 2, though I'm not sure in what fashion — it could be through flashback or some mythological subplot. The movie will likely explain Diana's absence in recent years and why she "turned from humanity" as was stated in Batman v Superman: Dawn of Justice.
With Wonder Woman 2 slated for December 2019, it follows fellow DC Extended Universe movie Shazam, which is set for April 5, 2019. After Aquaman on December 21, 2018, those are the last confirmed release dates for DCEU films. The Cyborg film originally had the distant release date of April 3, 2020, but it was conspicuously absent from the line-up of titles rolled out at Comic-Con. DC Films still has two mystery movies allocated for February 14, 2020 and June 5, 2020 that have not yet been named.
Other DC Films supposedly in development include the recently announced Flashpoint set sometime after Justice League, Matt Reeves' The Batman, a Joss Whedon Batgirl film, a Nightwing movie, Green Lantern Corps, a Black Adam film, Gotham City Sirens, and sequels to Suicide Squad and Man of Steel.
Gal Gadot's Wonder Woman can be next seen in this year's Justice League, which hits theaters November 17, 2017.