'Alias Grace' Trailer: Netflix's Margaret Atwood Adaptation Asks How A Murderess Can Be So Many Things At Once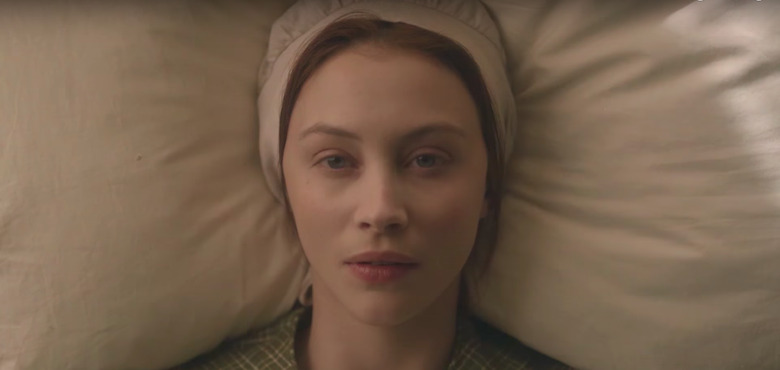 Another Margaret Atwood adaptation is coming to a computer screen near you. But this time, the bonnets worn by the women in Alias Grace are a mark of historical fiction rather than an oppressive dystopia.
Netflix is adapting Atwood's award-winning novel into a six-episode miniseries starring Sarah Gadon as the titular Grace Marks, who finds herself convicted of the brutal murder of her employer, and without memory of why.
"I think of all the things that have been written about me," Grace narrates in the Alias Grace trailer. "That I am an inhuman female demon, that I am an innocent victim of a blaggard forced against my will and in danger of my life... That I am cunning and devious. How can I be all these different things at once?"
Alias Grace is a spectacular novel by Atwood that puts an intriguing fictional spin on the real-life conviction of Grace Marks, a Canadian maid who was accused murdering her employer and his housekeeper with the stable hand in 1843. While the stable hand was hung for the murder, Grace Marks was curiously moved to a penitentiary and pardoned nearly 30 years later. After that, she vanished.
Atwood's book turns that true story into a part psychological thriller, part steamy bodice-ripper that I couldn't put down. While there's no science-fiction twist in the book as her famous stories like The Handmaid's Tale or The Blind Assassin, Alias Grace has Atwood's same deft exploration of women's internality and struggles with their class limits. The main character, Grace, is as much an enigma and an empathetic character as she is portrayed by the media circus that surrounds her in the story, and it seems like the Netflix series captures that well with her cryptic monologue.
"Murderess is a strong word to have attached to you," Grace intones blankly. "Murderer is merely brutal. I'd rather be a murderess than a murderer if those were the only choices."
Here's the official synopsis for Alias Grace below:
"Alias Grace is based on Margaret Atwood's award-winning novel. The six-hour miniseries follows Grace Marks, a poor, young Irish immigrant and domestic servant in Upper Canada who, along with stable hand James McDermott, was convicted of the brutal murders of their employer, Thomas Kinnear, and his housekeeper, Nancy Montgomery, in 1843."
Alias Grace is written and produced by Sarah Polley and directed by Mary Harron. It's a co-production with Halfire Entertainment, CBC, and Netflix. The miniseries will be released globally on Netflix Friday, November 3.